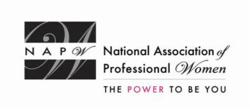 I hope everyone is excited to play games and win prizes at this meeting
Garden City, NY (PRWEB) June 29, 2012
The NAPW Augusta Local Chapter met on Saturday morning, June 23rd at 10:30am for a professional networking meeting at the GoodWill Job Connection Office on Peach Orchard Road in Augusta, GA.
This office was used for the Chapter's meetings with the permission of Elsa Bustamante, who is the Hispanic Services Coordinator for GoodWill Job Connections. The ladies of the Chapter thanked Elsa for her support and hospitality.
Sue Pellerin, Augusta Local Chapter President, kicked off the meeting with all the attendees reciting the NAPW Mission and Brand Promise. Introductions were done in the way of a 5 minute network jump. Everyone had 5 minutes to learn about each other by jumping from one to another without writing any of the information they learned on paper. They needed to learn their name, their company name, their family, their hobbies, and what they liked to do. When the 5 minutes was up, each lady had to tell what they learned about them, and for each item they got right, they were given $100 play money bills that were used at their auction for prizes at the end of the meeting.
Diane Kendricks,Owner of PlayNStay Daycare; Christy Higby, Emerald Executive Distributor of H Works Global; Mary Hunt, Owner of Hunt's Learn And Play, and Lisa Coleman and her daughter, Owner of Wilson Company/ E Strong were all new members in attendance. Isabel Mallar was also present at the meeting. She is a Mary Kay Consultant,World Ventures Representative, Court Interpreter with Premier Interpreters, Salsa Dance Instructor at Superior Academy, and a Paralegal for Augusta Virtual Assistants. She has qualified for NAPW and will be joining the organization and the Chapter.
Next, Sue and the ladies played Wheel of Fortune.
"I hope everyone is excited to play games and win prizes at this meeting," said Sue.
Forms were given to each attendee to fill out with names of other professional women who they know and would like to be invited to the next chapter meeting. Their names went in the center of the wheel, and then on the outside they put those names of future attendees. Sue would include those names on the next invite list.
Forms were filled out by each attendee, which will give them one free full year website listing on GoSmallBiz.com website for their company. This is a website that lists all business owners and their companies to give other business owners a multitude of resources when searching for a company to do business with.
An event survey questionnaire was handed out that ask the attendees if they would like to come back to the Chapter's event, if they are interested in sitting down and discussing how to grow their business, and to give the President 3 referrals to invite to the next meeting.
Sue, informed the attendees what NAPW has to offer to them as professional women in business. She told them about the Local Chapters, the National Meetings, Community Wall, Women In Spotlight & Featured Members, Bulletin Board, Mentorships, how to join NAPW, and what the process is.
The ladies played the network jump game by using the information given to each other during the 5 minutes network jump at the start of the meeting. For each item they were able to tell correctly about another attendee, they received $100.00 in play money to spend at the auction for prizes. Everyone bid on the items in the auction with the play money. It was fun for the members to see what the bids would be for the items.
Sue asked for volunteers to help her with meeting venues, contacting speakers, birthday planning, event planning, taking pictures at the events, and any other positions that one would think would benefit the Chapter. The volunteer positions will be discussed at the next meeting.
Sue informed the group of Job fairs that were taking place in the month of June in the local Augusta, GA area, and asked attendees if there were any other events happening that the Chapter would like to participate.
A door prize of 4 Coca-Cola glasses was won by Christy Higby. The attendees brought their registration tickets with them to the meeting and these were used for the door prize drawing. Sue handed out NAPW Pins and notebooks to the attendees as a welcome gift.
The next meeting is to be held on July 28th from 10:00am to 12:00pm at the Earth Fare Café and Market in their community room, 368 Fury's Ferry Road, Martinez, GA 3090. The guest speaker for July's meeting will be Christy Higby who is an Emerald Executive Distributor of H Works Global Company.
The National Association of Professional Women (NAPW) is the largest and most recognized network of female professionals. NAPW provides a forum where women can interact, exchange ideas, educate, network, and empower. NAPW Local Chapters allow members to maximize their experience through meetings, networking opportunities, and professional events.
For additional information regarding the NAPW Augusta Local Chapter and/or NAPW please visit http://www.napw.com.
Follow NAPW on Facebook and Twitter.
###