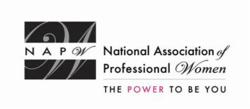 We are really looking forward to the information our very own members will be providing us with their business presentations this year...
Garden City, NY (PRWEB) February 01, 2012
"I'm excited about the plans we have for 2012!" This is how Jennifer Garcia, NAPW Baltimore Local Chapter President, began the chapter's first networking meeting of the New Year. This year, members will have more opportunities to promote their businesses. At each meeting, one member will be given ten-fifteen minutes to promote their business or latest endeavors. Members were encouraged to prepare their presentations to be informational or motivational to the members.
In February, the chapter will follow up on their New Year's Resolutions with Marilyn Thorpe, a Business and Life Coach with NexPhase Transitions. In March, the group will learn about Solo Te tea parties by Sabrina Owens of Solo Te. The chapter will receive help with the home-buying process with Ann Kress of Keller Williams Select Realtors in April.
"We are really looking forward to the information our very own members will be providing us with their business presentations this year," Jennifer said.
In addition to having members present, Jennifer proposed having outside speakers to occasionally present on a topic important to business owners. At the start of the year, Jennifer met with a representative from the Small Business Administration (SBA) who specializes in small business and women business owners. The representative eagerly volunteered to speak to the Baltimore Local Chapter and to bring other expert speakers as well. The representative from SBA suggested bringing speakers to discuss: How to Obtain Financing, Financial Literacy, How to Become a Recognized Woman-Owned Business, How to Obtain Federal Contracting, and How to Export Your Products. Jennifer asked the members in attendance to consider what topics they would like to hear and urged all Baltimore Chapter members to provide feedback as to the topics they want to learn about.
The first presentation for 2012 was by Nayo Carter of First Step Accounting. Nayo gave an informative discussion on "Tax Information to Prepare for Tax Season". She provided members tips to prepare for tax season, discussed some of the software used by businesses to manage their books, and made some recommendations. She also gave a handout "Tax Return Preparation Checklist" which can be found on her website: http://tinyurl.com/1ststepcklist. She provided her contact information for members that need assistance with their taxes: Nayo Carter, 1st Step Accounting 443-424-8014 http://www.1ststepaccounting.com.
The Baltimore Local Chapter meetings are held on the third Wednesday of the month at 5:30pm, and the location varies from month to month. The next meeting will be February 15th, 2012 at 5:30pm at Bonefish Grill: 10906 Boulevard Circle, Owings Mills, MD 21117.
The presentation for the next meeting will be "Following up on your New Year's Resolutions" by Marilyn Thorpe, Business & Life Coach with NexPhase Transitions.
Members in attendance included:
Ann Kress, a residential realtor with Keller Williams Select Realtors. Ann helps both buyers and sellers through the process of buying or selling homes. Ann's scope is Baltimore City and 5 counties: Baltimore, Howard, Anne Arundel, Carroll, and Harford.
Linda Mathieu is a licensed Certified Public Accountant, working in the field of retirement planning for over thirty years. Linda designs and administers retirement plans helping her clients avoid tax liabilities. Linda is also a representative for Melaleuca, a green company offering green home cleaning products, vitamins, and more. She volunteers with Landmark and announced their forum which will be the weekend of March 7th.
Tamera Swan-Mason is the President and CEO of White Swan Inc. Her company's principal products are Wild Rose Hand and Body Lotion, Bath and Shower Gel and Soothing Bath Salts. She is currently seeking ten on-commission salespersons to sell her products. Tamera is also an ordained New Thought Minister. She is a contributing book author, having written six articles for six books on women's issues. Tamera is a member of the Professional Woman's Network.
Jennifer Garcia is the Owner and President of Logicreative, a marketing and design business specializing in brand marketing and social media strategy. Logicreative offers a wide range of services including web and graphic design to help businesses build their brand. Logicreative offers social media management services, helping busy entrepreneurs maintain an ongoing web presence.
Nayo Carter is the CEO of First Step Accounting. Nayo is an accountant with experience in taxes and bookkeeping. Nayo offers her clients virtual accounting services through a cloud-based accounting system. In addition, she helps multi-level marketers manage their finances easily and inexpensively. Nayo was the first speaker for 2012 at the NAPW Baltimore Chapter January meeting.
Guests in attendance included:
Vickie Bowersox of Vickie Bowersox Consulting. She helps others find the hope they've lost in their lives. In addition to being a life coach, Vickie helps business owners create their own economy by teaching them how to develop multiple sources of income. Vickie currently represents four companies: Younique, Vima, Melaleuca and Send Out Cards that help her increase her wealth. Recently, Vickie started a nonprofit organization called Hope At Last, helping young adults by providing them life and career counseling.
"If you are a professional woman in the Maryland area, we encourage you to join NAPW," said Jennifer.
The National Association of Professional Women (NAPW) is the largest and most recognized network of female professionals. NAPW provides a forum where women can interact, exchange ideas, educate, network, and empower. NAPW Local Chapters allow members to maximize their experience through meetings, networking opportunities, and professional events.
For additional information regarding the NAPW Baltimore Local Chapter and/or NAPW, please visit http://www.napw.com.
Follow NAPW on Facebook and Twitter.
###