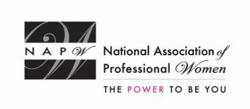 Today, Pat is a Certified Silva Method Instructor and a Certified Silva Success Coach for Silva Mind Control Method...Her presentation was the highlight of the evening.
Garden City, NY (PRWEB) September 25, 2012
Members and guests of the NAPW Baton Rouge, LA Local Chapter gathered on August 8th for their monthly professional networking meeting. The meeting was held at the Chapter's usual meeting venue, Drusilla's Seafood Restaurant and featured guest speaker Pat Arnould who captivated the audience with her presentation, 'Mental Housekeeping: Think of What You Want Only.'
The August meeting got off to a great start with members and guests enjoying the extensive seafood menu and the same warm reception and southern hospitality the staff at Drusilla's has bestowed on the Chapter since it held its first meeting there.
Before introducing the evening's special guest speaker, NAPW Baton Rouge, LA Chapter President Trina G. Armstrong welcomed members and guests to the meeting. She invited Marion Pearson, guest of member Tiffany Thomas-James, to introduce herself to the audience. Marion told everyone she has been with Homeland Security for six years and is employed as a Group Lead in her department.
Then Trina read aloud Pat Arnould's impressive biography. Members and guests learned that Pat is an American Indian and Citizen of the United Houma Nation. She holds a Bachelor of Science degree in Accounting as well as an M.B.A. In 1998, Pat was appointed Deputy Director of the Louisiana Governor's Office of Indian Affairs and later became Director.
"Today, Pat is a Certified Silva Method Instructor and a Certified Silva Success Coach for Silva Mind Control Method," said Trina. "Her presentation was the highlight of the evening."
The Silva Method is a comprehensive program designed to train you to make better use of your mental processes. When your thought processes are improved, you act better, and your outlook on life generally gets better.
The ideas Pat emphasized to members and guests were to recognize thoughts that are beneficial, to learn how to effectively manage stress, and to think of what you want only. Pat concluded her presentation by engaging the audience in a meditation exercise. She asked everyone to close their eyes and introduced the 3-1 method of relaxing the body, relaxing the mind, and honing in at the basic plane level. The method was accomplished through concentrated breathing and a three fingers technique.
A very relaxed audience next heard from Trina who was delighted to inform everyone that she had been in touch with the Baton Rouge Affiliate of Susan G. Komen Race for The Cure, the charity the NAPW Baton Rouge, LA Chapter adopted in July.
"Since our last meeting, Niki Marie Hansen and I attended the foundation's Ascension Pink Ribbon Golf Tournament, which was held in Gonzales, Louisiana on July 19th," Trina told members and guests.
Member Niki Marie provided everyone with a brief report of the tournament events. She mentioned that the tournament had volunteers, board members, and survivors present. A local Girl Scout troop was also present to lend their support to breast cancer survivors.
"The breast cancer survivor breakfast took place before the tournament began and it was a delightful celebration," said Niki Marie.
The discussion progressed and focused on upcoming Susan G. Komen events that the Chapter could get involved with and Trina provided the group with dates for the Komen Volunteer Casting Call, the Perfectly Pink luncheon, Pink Out, Worship in Pink, and the Pink Ribbon Bowl. She also handed out the Perfectly Pink flyer that was found on the Komen website.
"Everyone has ample opportunity to get involved since there are enough Komen events scheduled for the remainder of the year," said Trina.
Trina next announced that a new standing agenda item would be featured at future meetings called 'All Eyes on You.' She explained that members would be given five minutes to share any accomplishments or successes they have experienced since the last NAPW Baton Rouge, LA Chapter meeting.
"I hope to showcase and applaud members' accomplishments every month at our meetings," said Trina. "This segment aligns us with NAPW's mission to support and empower women."
Trina also kept members and guests informed about the latest NAPW news by talking about a few of the articles and features found in the monthly NAPW Newsletter. She also asked the group about suggestions for getting more members in the Baton Rouge area to join the Local Chapter.
"As emphasized in the Newsletter, one of the benefits of joining a Chapter is that members remain connected to NAPW news and upcoming events," reminded Trina.
Dates and plans for the remaining 2012 meetings were provided by Trina. Members are scheduled to visit the Red Shoes on Thursday, September 13th and the October 10th Chapter meeting will focus on breast cancer awareness. No plans were scheduled for November. The discussion then moved on to planning for the end of the year mixer. Each active member will be asked to bring a friend to share in the success of NAPW Baton Rouge, LA Local Chapter.
Members present included Niki Marie Hansen, Olevia M. Holland-Cooper, Tiffany Thomas-James, and Alison R. Woods.
The National Association of Professional Women (NAPW) is the largest and most recognized network of female professionals. NAPW provides a forum where women can interact, exchange ideas, educate, network, and empower. NAPW Local Chapters allow members to maximize their experience through meetings, networking opportunities, and professional events.
For additional information regarding the NAPW Baton Rouge, LA Local Chapter and/or NAPW, please visit http://www.napw.com.
Follow NAPW on Facebook and Twitter.
###