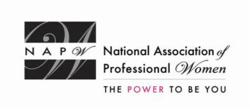 It was a wonderful presentation that I would recommend to any company that has any type of stressful job for all employees.
Garden City, NY (PRWEB) November 29, 2012
Members and guests of the NAPW Binghamton, NY Local Chapter gathered on November 15th for a professional networking meeting. Just in time for the holidays, the group of professional women got plenty of tips and advice on how to manage and reduce stress from guest speaker and Chapter member Diane Lange, Founder, Coach, and Consultant of Proclivity LLD. The networking meeting was held at The Loft @99, an informal meeting location that offered great drinks and food and the perfect venue for networking opportunities.
Binghamton Local Chapter President Domonica Creeley got the meeting started by warmly welcoming the attendees. After briefly speaking about the meeting agenda, she invited members and guests to introduce themselves, talk about why they joined NAPW, and what they hoped to gain from the experience.
Domonica then introduced the meeting's guest speaker whose very timely presentation featured a number of helpful hints on stress reduction. A Binghamton Local Chapter member and Founder, Coach, and Consultant of Proclivity LLD, Diane Lange touched on the physiology of stress, different types of stress, stress exhaustion symptoms building healthy coping strategies, dealing with toxic people, and how different personalities play a part in stress.
"It was a wonderful presentation that I would recommend to any company that has any type of stressful job for all employees," said Dominica. "We thank Diane for a wonderful presentation."
During the remainder of the meeting, members and guests of the Binghamton Chapter reviewed its local charities list and briefly discussed the Go Red For Women Luncheon and Expo that a number of members are attending, including Marianne Kaufmann , Rebecca, and the Chapter President. Domonica also spoke about the Binghamton Local Chapter's participation in the American Cancer Society's upcoming Relay for Life.
"We talked about our team name, responsibilities, some items that we could have at our tent, and creative fundraising for the Relay, in response to an email we received regarding using NAPW in the team name, logo use, and fundraising," said Domonica.
Also discussed was an upcoming Paddle Party that was available if members would like to see one in action, which would support a local girl's competition dance group. Domonica also showed attendees the NAPW newsletter, where the Making Strides Against Breast Cancer Team NAPW was showcased. Other discussions during the meeting focused on the Binghamton, NY Local Chapter Page and ways to get even more members to attend Chapter networking meetings.
Members also brainstormed ideas for future meeting locations and topics. The Chapter is currently researching local women-owned restaurants for upcoming meetings. The women also discussed having a 'Bring a Friend' night to the tentative Defense Tactics Meeting (January 18th), and discussed talking with the Power of One MMA group if the January 18th meeting could be moved to 6:15pm, which would better work with their schedule. Other future meeting topics were discussed including the February meeting (at The Restaurant); the Chapter is reaching out to Cassandra for a presentation on self esteem in March.
"For the April meeting, there is a call into the local hospital for a representative to speak on the topic of women's health and breast care," said Domonica. "As for May, we will attempt to reach out to the Ithaca Local Chapter President again to see if maybe we could work out a date for a joint meeting. For the June Meeting a possible picnic theme was discussed."
The next NAPW Binghamton Local Chapter meeting will be held at the Whole in the Wall Restaurant in Binghamton on December 13th at 6:00pm.
Members in attendance were Betsy Dunda, Diane Lange, Marianne Kaufmann, Renee Frantellizzi, and Domonica Creeley
Betsy Dunda is a Woman in Transition Coach; she specializes in helping women transition through different situations or experiences: entering the workforce for the first time after college, changing jobs or careers, leaving a job to start a business, or re-designing life as an empty nester, as a result of a divorce, or for retirement.
Diane Lange is the Founder, Coach, and Consultant of Proclivity LLC and was just recently internationally published. Proclivity specializes in leadership /management development, employee morale and performance, training initiatives, speaking engagements, and so much more.
Marianne Kaufmann is a Project Manager/Technology Consultant at DTCC-The Depository Trust & Clearing Corporation, which specializes in global finances. She is currently involved with Project Management Institute. DTCC - WINS. She is also a Guild Certified Feldenkrais Practitioner and a member of the Feldenkrais Guild of North America.
Renee Frantellizzi is a Program Analyst at BAE Systems.
Domonica Creeley works for Groundwater Sciences Corporation as an Administrative Assistant.
Groundwater Sciences Corporation's principal services include hydrogeological consulting, focusing on solving complex groundwater and soil contamination problems and development of
water resources for public and private use.
The National Association of Professional Women (NAPW) is the largest and most recognized network of female professionals. NAPW provides a forum where women can interact, exchange ideas, educate, network, and empower. NAPW Local Chapters allow members to maximize their experience through meetings, networking opportunities, and professional events.
For additional information regarding the NAPW Binghamton Local Chapter and/or NAPW, please visit http://www.napw.com.