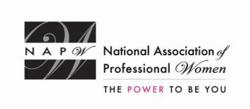 We all were very grateful to Betsy for speaking at our meeting, and members and guests walked away with a better understanding of transitions, and why it is helpful to have a coach walk you through these...We are looking forward to hearing...
Garden City, NY (PRWEB) October 10, 2012
Members and guests of the NAPW Binghamton, NY Local Chapter gathered on September 27th for a professional networking meeting at the Olive Garden in Vestal. The informal meeting location was the perfect opportunity for members and guests to network, set future plans for the Chapter, and hear expert tips about how best to handle transitions in one's life from
'Woman in Transition Coach' and Chapter member Betsy Dunda.
NAPW Binghamton, NY Local Chapter President Domonica Creeley welcomed everyone to the meeting and, after briefly reviewing the meeting's agenda, invited attendees to introduce themselves and share with the others why they joined NAPW and what they hoped to gain from the experience. One by one, members and guests took the floor and everyone had an opportunity to learn more about one another. Attendees also talked about the many member benefits NAPW has to offer and what tools they have used.
The President next introduced the meeting's guest speaker. Domonica told the crowd that Betsy was one of a number of members who had volunteered to speak at the Chapter's monthly networking meetings.
"We have been able to tap into our wonderful Chapter members for our guest speakers. This meeting will feature Betsy Dunda on the topic of transitions," she said. "Our October 25th meeting will feature Casandra Carter on the topic of self-esteem and Diane Lange will talk about stress reduction at our November 15th meeting."
Betsy Dunda experienced transition herself recently when she became a Woman in Transition Coach. She now specializes in helping women transition through different situations or experiences: entering the workforce for the first time after college; changing jobs or career; leaving a job to start a business; or redesigning life as an empty nester as a result of a divorce, or for retirement.
At the meeting, Betsy discussed many of the obstacles that one may need to overcome when facing a transition in life; different ways that you perceive things that occur during a transition; why women have a harder time than men in transitioning; and much more. At the close of her presentation, Betsy shared some of the techniques she uses when coaching women through different transitions. She also shared with the group how she hopes to grow her business.
"We all were very grateful to Betsy for speaking at our meeting, and members and guests walked away with a better understanding of transitions, and why it is helpful to have a coach walk you through these," said Domonica. "We are looking forward to hearing what our other wonderful guest speakers have to say on their topics."
Members and guests at the September Binghamton Chapter monthly meeting also had the chance to discuss how they could work with local charities. The Chapter's Charity Chair Rebecca Zeeuw led the discussion about upcoming charity events the Chapter could attend. It was decided that since the Mom's House-Solution for Hope Banquet will be held on the same date as the Chapter's next meeting, Rebecca would look into the organization's next event, a Rock-a-Thon. Rebecca has requested more information about this upcoming event.
They also discussed the upcoming American Heart Association's Go Red for Women Luncheon and Expo that will be held November 1st in Syracuse, NY. Domonica and Rebecca have purchased tickets for this and told members and guests about what will be going on during the event. A number of members have indicated interest in attending the charitable luncheon.
In an effort to meet more like-minded professional women, the Binghamton, NY Local Chapter discussed reaching out to other Chapters in the area to hold a 'meet & greet.' It was decided that since many of these Chapters are new, a summer get-together would allow for everyone to become better established.
"Getting together with other NAPW Local Chapters would help grow our network of professional women and really showcase what wonderful businesses, people, and opportunities we have as a NAPW community," said Domonica.
The Binghamton Local Chapter brainstormed ways to engage more members to attend meetings and discussed different event locations. After researching locally women-owned restaurants, the Chapter is now looking into a few of these venues and discussing dates for upcoming meetings. Also discussed was the importance of the Chapter's social media presence such as its Facebook page and LinkedIn, and the business benefits that some members have had using these networking tools.
Members in attendance were Rebecca Zeeuw, Betsy Dunda, Diane Lange, Marianne Kaufmann, Renee Frantellizzi, and Domonica Creeley
Diane Lange is the Founder, Coach, and Consultant of Proclivity LLC; and was just recently internationally published. Proclivity specializes in leadership/management development, employee morale and performance, training initiatives, speaking engagements, and so much more.
Rebecca Zeeuw works for EMA as an Account Manager. EMA of New York specializes in drives and automations in the HVAC and manufacturing industries. An industry that is always evolving and changing and keeping informed and up-to-date on the newest technology is critical.
Marianne Kaufmann is a Project Manager/Technology Consultant at DTCC-The Depository Trust & Clearing Corporation, which specializes in global finances. She is currently involved with Project Management Institute. DTCC - WINS. She is also a Guild Certified Feldenkrais Practitioner and a member of the Feldenkrais Guild of North America.
Renee Frantellizzi is a Program Analyst at BAE Systems.
Domonica Creeley works for Groundwater Sciences Corporation as an Administrative Assistant. Groundwater Sciences Corporation's principal services include hydrogeological consulting, focusing on solving complex groundwater and soil contamination problems and development of water resources for public and private use.
The National Association of Professional Women (NAPW) is the largest and most recognized network of female professionals. NAPW provides a forum where women can interact, exchange ideas, educate, network, and empower. NAPW Local Chapters allow members to maximize their experience through meetings, networking opportunities, and professional events.
For additional information regarding the NAPW Binghamton, NY Local Chapter and/or NAPW, please visit http://www.napw.com.
Follow NAPW on Facebook and Twitter.
###