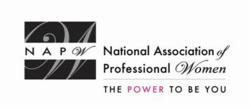 We value the one-on-one connections we can make with members in our areas.
Garden City, NY (PRWEB) January 24, 2012
NAPW Boulder Local Chapter held two professional networking meetings to discuss upcoming plans for the chapter, schedule formal meetings, and arrange for social events.
At the December meeting, Chapter President Erin Bush expressed an interest in having a secretary to take meeting minutes and help with some of the responsibilities. Whitney Carlson offered to take on this position. Erin approved this position for Whitney.
Erin discussed her business and the changes it is going through. She handed out her new business card and explained that the website is up and running. Then Whitney discussed the changes in her business location but the excitement of growth potential in the future.
Erin and Whitney then discussed their goals for the chapter. They included creating partnerships and networking with other professional women. Whitney decided to send out an email to all of the Boulder chapter members to give them a small survey. This would have the goal of finding out more about what the women of the chapter want to get out of this membership and who was willing to help out. Erin said that Paige had found a speaker who wanted to talk about networking for the initial meeting, but due to scheduling conflicts could not attend. Whitney offered to email Paige to see if that speaker could come to the January 12th meeting.
Other topics of discussion included sales, promotions, and leadership. Erin expressed an interest in having a drawing each month for a door prize and having ice breaker games to get everyone involved in each meeting.
In the October meeting, Paige had expressed an interest in having small unofficial NAPW gathering throughout the month. Erin requested that if any of the members plan a social event to email her the details so she could post it on the chapter page. This will help the information get to all of the members. Social ideas included coffee, brunch, dinners, and hiking.
In January, Erin recapped last month's discussions with Kristy and asked if she had any ideas on how to grow the chapter. Kristy suggested the Chapter's leaders resend the announcement of the new chapter to as many members as possible. Erin is going to get an updated list from NAPW to resend the announcement.
It was requested that each member go through the NAPW site and personally invite other members to join the group in February. "We value the one-on-one connections we can make with members in our areas," said Erin.
Topics discussed for future meetings included the implementation of a book club, volunteer opportunities, and charity events. For the February meeting, Erin is going to send out personalized invitations to NAPW members. Kristy volunteered to design the invitation. Erin is going to send her the logo and get stamps. A speaker was discussed and narrowed down to an accountant to discuss tax write-offs and another NAPW member, Carmen Bell, to discuss identity theft. "All of us are going to look through the NAPW site and reach out to our personal contacts to find speakers on this topic," said Erin.
The door prize was drawn and Kristy won a $10 gift certificate to Bean & Berry's. The chapter took a group picture with the banner and scheduled the next meeting for February 9th from 5:30-7pm at Bean and Berry's.
The National Association of Professional Women (NAPW) is the largest and most recognized network of female professionals. NAPW provides a forum where women can interact, exchange ideas, educate, network, and empower. NAPW Local Chapters allow members to maximize their experience through meetings, networking opportunities, and professional events.
For additional information regarding the NAPW Boulder Local Chapter and/or NAPW please visit http://www.napw.com.
Follow NAPW on Facebook and Twitter.
###