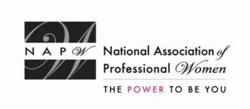 In the future we will be adding a Facebook site, Twitter account, LinkedIn account, and a Google+ account
Garden City, NY (PRWEB) May 03, 2012
The NAPW Boulder Local Chapter gathered on April 12th at 6:30pm for a professional networking meeting. The topics that were discussed were social media sites, charitable organizations that the Chapter can participate in, and growth.
Erin Bush, Local Chapter President, kicked off the meeting by having each member in attendance introduce themselves. Whitney Carlson made the first introduction. She is a Chiropractor in Longmont and focuses her practice on pregnancy, pediatrics, and sports. Erin is the Chapter President and a Personal Trainer. She specializes in women's health and training. Michelle Kaye is a Counselor and Therapist, and specializes in equine therapy and counseling for teens.
Next on the agenda, Erin asked the group about the benefits that they would like to get out of the NAPW meetings. Michelle said that she would like to know more about NAPW resources and networking opportunities. Erin had asked Michelle to bring her laptop to the meeting so that she can go over the Local Chapter page and NAPW website. She wanted to make sure that all attendees knew how to use it and where to find important information regarding upcoming meetings. Also discussed were the benefits of Star-12. Erin plans on finding out how to become a "spotlight feature". She also plans on bringing in her Star-12 mailers she receives, so that the Chapter can learn about seminar opportunities that come with their membership .
The Chapter discussed the charities and nonprofits that they would like to become involved in. She discussed the importance of creating social media sites to gain more awareness in both the community and nationally.
"In the future we will be adding a Facebook group, Twitter account, LinkedIn account, a Google+ account, and also hope we can have the Chapter become more involved in the community," said Erin.
Erin relayed the information that she was getting from the phone conferences about growth, social marketing, and new mobile applications. Everyone seemed excited for the new applications.
Attendees spoke about guest speakers and agreed to have social gatherings throughout the month in order to create a large networking community for women in the Boulder area. The group decided that guest speakers will be featured on the Local Chapter page and receive either a gift card or have their meal covered.
The Chapter plans on posting to the Community Wall and Chapter page about growth and questions for the members encouraging members to attend the meetings. Erin told the group that this will help to draw in members so that they can get the most out of their membership.
The National Association of Professional Women (NAPW) is the largest and most recognized network of female professionals. NAPW provides a forum where women can interact, exchange ideas, educate, network, and empower. NAPW Local Chapters allow members to maximize their experience through meetings, networking opportunities, and professional events.
For additional information regarding the NAPW Boulder Local Chapter and/or [NAPW please visit http://www.napw.com.
Follow NAPW on Facebook and Twitter.
###