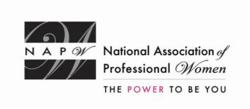 Members and guests were very impressed by the lessons learned and transition tips provided by Ms. Howard and Ms. Jarrett, and we appreciate them sharing their experiences with the Bowie, MD Local Chapter.
Garden City, NY (PRWEB) October 23, 2012
Members and guests of the NAPW Bowie, MD Local Chapter gathered on September 25th at the Old Bowie Grill for a professional networking meeting. The Chapter welcomed a number of first-time Bowie Local Chapter meeting attendees and hosted two guest speakers, both members of the Bowie Chapter, who spoke about how they went from being company employees to successful business owners.
Chapter President Marilyn Thorpe kicked off the networking meeting with a warm greeting to members and guests. Marilyn invited attendees to introduce themselves and provide their company's name and a brief description of their responsibilities/company mission. Attendees also gave a brief overview of why they joined NAPW and what they would like to gain from the experience. Before introducing the evening's guest speakers, the Chapter President reviewed the many benefits of a NAPW membership.
"There are so many advantages to becoming a member of NAPW including the vast array of discounts offered and the huge networking opportunities," Marilyn told the crowd.
The guest speakers, LaTaunya Howard, Owner of Howard Corporate Centre, and Sharon Jarrett, Owner of Jarrett Affairs, then took the floor to generously share with members and guests how they were able to transition from employee to entrepreneur. They each talked candidly about their respective journeys with the crowd, giving plenty of advice and tips about the lessons they learned along the way.
Ms. Howard, formerly an employee of the federal government, transitioned to Entrepreneur as the Founder and Managing Member of Howard Corporate Centre, an executive suites business that provides furnished private offices, meeting rooms, and other flexible workspace solutions to help businesses grow and succeed. Ms. Howard presented two primary points as lessons learned. First, she reflected on the importance of managing vendor relationships.
"These relationships are similar to managing employees and you are accountable for the vendor's actions," Ms. Howard told the audience.
She went on to share several tips for managing these relationships, including research - know who your vendor is; use referrals and reviews, including the Better Business Bureau; agility - incorporate flexibility into your business and marketing plan and, if possible, hire a professional to develop your plan; recognize market changes, competition, and how you distinguish yourself; test the market, this may include hosting a fair or participating, as a vendor, in a fair.
Second, Ms. Howard reflected on the approach to surveying your environment. Specifically, polling other entrepreneurs to gage their thoughts related to working from home or conducting business meetings at local coffee shops. Ms. Howard also noted the importance of using relevant key words if you are a blogger; establishing a business address, opposed to using a P.O. Box; and hiring a good accountant, lawyer, and banker.
Ms. Jarrett, formerly an employee of IBM, transitioned to Entrepreneur and formed Jarrett Affairs, an events management company, with a mission to deliver events, 'ON TIME, ON TARGET and ON BUDGET.' Ms. Jarrett presented the following list of tips to encourage and guide a prospective entrepreneur: position yourself for success before you leave your employer; leverage existing relationships and contacts, e.g., church or community; be intentional about starting your business/leaving your employer - you can facilitate this by positioning yourself for a quick rocket launch and gaining exposure to your industry's brokers and power leaders; take a quote from at least one person in the field you plan to begin a business; claim your business identity before you leave your employer; conduct networking in organizations and identify your target audience; create a website and always go with a dot com address, as these show up first in internet searches; prepare for a mindset change and prepare to change the mindset of those around you; understand that "player haters" can have the same DNA as you – do not take it personal; until you leave your current employer you must learn to operate in dual roles; maintain good records; consider forming your business as something other than LLC, perhaps S-Corporation.
"And lastly, do not hide behind Facebook – get in your client's face," Ms. Jarrett advised.
A lively Q&A session followed the presentation and attendees asked many pertinent questions. Below are a few excerpts:
Q: Why S-Corporation instead of LLC?
A: LLCs are the most audited business types.
Q: What type of business insurance is necessary?
A: Usually general liability and umbrella. You may need event insurance depending on your business model.
Q: Is anyone bonded?
A: No one at the meeting was bonded.
Q: How do you deal with procrastination?
A: (1) Make your goals public; surround yourself with people you want to be like; shift from perfection to excellence; (2) Two recommended books by author Myles Munroe, are Understanding Your Potential and The Pursuit of Purpose.
"Members and guests were very impressed by the lessons learned and transition tips provided by Ms. Howard and Ms. Jarrett, and we appreciate them sharing their experiences with the Bowie, MD Local Chapter," said Chapter President Marilyn Thorpe.
Attendees at the September networking meeting included Marilyn Thorpe, Chapter President; Melissa Lee, Chapter Historian/Secretary; Sharon Jarrett, Chapter Professional Development Chair; LaTaunya Howard, Chapter Social Chair, Event Planner; Susanne Pile, Sondra Lancaster, Candice Camille, Chonya Johnson, Wanda Robinson, and Sheryl Curtis.
The following members were first-time Bowie Local Chapter meeting attendees:
Susanne Pile: Ms. Pile is an Executive Assistant with a defense acquisitions firm. Ms. Pile is planning to start a company in the next few years and looking to branch out to seek new ideas.
Sondra Lancaster: Ms. Lancaster has spent the last ten years working in the nonprofit, minority higher education field. Ms. Lancaster has a passion for communications and is interested in transitioning to this field and starting a company.
Sheryl Curtis: Ms. Curtis was formerly an Interior Designer for model homes and has transitioned her skill set to Niche Bags. The company creates and sells pocketbooks, under the motto: "Bag it, Change it, and Go."
The National Association of Professional Women (NAPW) is the largest and most recognized network of female professionals. NAPW provides a forum where women can interact, exchange ideas, educate, network, and empower. NAPW Local Chapters allow members to maximize their experience through meetings, networking opportunities, and professional events.
For additional information regarding the NAPW Bowie Local Chapter and/or NAPW, please visit http://www.napw.com.
Follow NAPW on Facebook and Twitter.
###