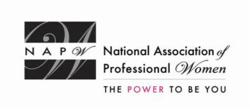 Guest speakers will certainly make for interesting and educational meetings.
Garden City, NY (PRWEB) February 04, 2012
The Buffalo Local Chapter of NAPW held a professional networking meeting at Wellness Connection Conference Room in Snyder Square in Amherst, New York at 6pm on January 17th, 2012.
Maria Tarnev-Wydro, President, opened the meeting by welcoming everyone and mentioning some of the benefits of membership in NAPW including local networking, regional and national exposure and support, website, perks, and discounts on the website. The chapter discussed ideas on how to get the word out about future meetings and how to grow the Buffalo Local Chapter.
Everyone in attendance was formally introduced and each attendee was given three to five minutes to explain their business and how they may benefit other members. Members in attendance included Nicki Land, Joanne Klenk, Merry Constantino, Marcia Nachreiner, a guest, and
Maria Tarnev-Wydro, Chapter President.
The group discussed ways to increase participation at the local meetings and membership. Several suggestions were brought up such as calling members on the phone to invite them, placing a free listing in the local community newspaper, and inviting interesting speakers to draw attendance. The chapter discussed possible future speakers from local business organizations such as the Small Business Administration, local investor groups like Buffalo Angel Group, University at Buffalo educators, local TV personalities, and more, to pique interest and draw more women to the meetings.
"Guest speakers will certainly make for interesting and educational meetings," said Maria.
A presentation was given by Merry Constantino of Product Logic. Her company takes any product from idea to market, including designing a prototype, patenting, licensing, and marketing. She has designed toys, kitchen gadgets, sports and kids games, dental appliances, furniture, and more. She is also proficient in suggesting and improving upon existing product designs, ways to make products lighter, stronger, easier to use, and making products more marketable.
A presentation was given by Nikki Land about the importance of proper lighting in your home. She is an architect and specializes in interior lighting. She also has another business which is using a third party supplier for electricity and gas utilities. She is able to lower utility bills by using third party suppliers instead of the usual utility companies. "Everything remains the same except that you pay your bill to a different company," she explained.
The chapter instituted a monthly presentation "sign-up sheet" to keep track of future presenters for each meeting. Members have signed up for future meetings and presentations for the upcoming months.
The next meeting is scheduled for Tuesday, February 28th at 6pm. The meeting location will be in the Wellness Connection Conference Room, Harlem and Main, in Amherst, NY. "Bring a laptop as we will be having a "hands on" demonstration and training about the NAPW website," reminded Maria.
The National Association of Professional Women (NAPW) is the largest and most recognized network of female professionals. NAPW provides a forum where women can interact, exchange ideas, educate, network, and empower. NAPW Local Chapters allow members to maximize their experience through meetings, networking opportunities, and professional events.
For additional information regarding the NAPW Buffalo Local Chapter and/or [NAPW please visit http://www.napw.com.
Follow NAPW on Facebook and Twitter.
# # #