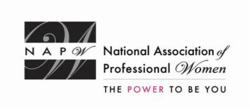 We are encouraging our Chapter members to explore the facets of membership online
Garden City, NY (PRWEB) March 26, 2012
The NAPW Buffalo Local Chapter met for a professional networking meeting on February 28th. Maria Tarnev-Wydro, Chapter President,opened the meeting by welcoming everyone and mentioning some of the benefits of membership in NAPW, such as local networking, regional and national exposure and support, website, and perks and discounts on the website. The chapter discussed ideas on how to get the word out about future meetings and how to build the Local Chapter.
Guests in attendance were Patty Collins, Laythenette Shine, Merry Constantino, Susan Lang-Wagner, and Maria Tarnev-Wydro.
Each attendee had three to five minutes to explain their business and how they could benefit from other members.
The group discussed ways to increase participation at the local meetings and membership. Several suggestions brought up included calling members on the phone to invite them, placing a free listing in the local community newspaper, and inviting interesting guest speakers. They discussed possible future speakers from local business organizations, such as the Small Business Administration, local investor groups (Buffalo Angel Group), University at Buffalo educators, and local TV personalities to spark interest and draw more professional women to the meetings.
A presentation was conducted as a "hands -on" website seminar explaining the NAPW website and many of its functions. All members signed onto the wifi with their own computers and were taken step-by-step through the website so they could understand exactly how to navigate through the Message Center, Community Wall, Bulletin Board and more.
"The Members used their own computers. Having everyone on the same page at the same time seemed to be a much better training of the website than just showing them in a presentation," said Marie. "They were engaged and learning a lot more."
"Some of the members admitted that they had never really taken the time to explore all the facets of the website," said Maria. "Many are surprised at how many benefits they had overlooked."
Laythenette discussed her experience at The National Networking Conference in New York City last year and said that the event was well presented and she will be attending again this year.
The next meeting will also include a "hands on" demonstration and training about the NAPW website. Everyone was reminded to bring a lap top.
The National Association of Professional Women (NAPW) is the largest and most recognized network of female professionals. NAPW provides a forum where women can interact, exchange ideas, educate, network, and empower. NAPW Local Chapters allow members to maximize their experience through meetings, networking opportunities, and professional events.
For additional information regarding the NAPW Buffalo Local Chapter and/or NAPW please visit http://www.napw.com.