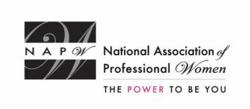 We all received a generous discount coupon towards our first consultation with Tanya...
Garden City, NY (PRWEB) February 01, 2012
NAPW Centennial Local Chapter held a women's professional networking meeting on January 20th at The Egg and I restaurant located at 6818 South Yosemite, in Centennial, CO, 80112. Members in attendance included Beth Caldwell, Elizabeth Pecce, Kris Smith, and Tanya Carleton. Two new members were welcomed: Sarah Brown and Susan Dodson. Networking, introductions of new members and exchanging of business cards began at 7:30am.
Beth Caldwell opened the meeting at 8:00am, with a discussion regarding magnetic name tags and tracking down a good source. Other topics covered for new business included ideas for two guest speakers in 2012 in addition to member speakers. The idea of holding a breakfast drawing was brought up to reward continuous attendance. Each month a business card would be selected randomly for a prize.
The chapter will be approaching the restaurant to affix an advertisement to the entry wall regarding monthly meetings. Everyone was encouraged think about the benefits of having a membership in NAPW and how those benefits facilitate one's growth in the business community as a professional, and also the growth of the chapter. Members' ideas and favored benefits will be discussed at a future meeting. The final item of new business was to have a server take a picture of all present holding the official chapter banner.
New business was concluded and the group moved on with the introduction of member, speaker and presenter, Tanya Carleton, owner of TLC Acupuncture. Tanya is a licensed practitioner of comprehensive Chinese medical care and also licensed in acupuncture. Tanya came prepared with a very organized presentation on what her practice had to offer in the prized areas of massage and acupuncture, Chinese herbal medicine and its historical foundation preceding present-day medicine, and nutritional counseling.
"We all received a generous discount coupon towards our first consultation with Tanya," said Beth.
After the presentation, a few more items were discussed regarding the various charities the chapter supports as a group and on an individual basis.
The meeting adjourned at 9:15am. February's chapter meeting will be held on February 17th. Due to a schedule change, there will be a new speaker announced later on the Chapter Wall.
The National Association of Professional Women (NAPW) is the largest and most recognized network of female professionals. NAPW provides a forum where women can interact, exchange ideas, educate, network, and empower. NAPW Local Chapters allow members to maximize their experience through meetings, networking opportunities, and professional events.
For additional information regarding the NAPW Centennial Local Chapter and/or NAPW, please visit http://www.napw.com.
Follow NAPW on Facebook and Twitter.
###