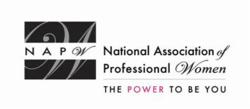 Since many of our members are business owners, we truly can benefit from the camaraderie and support contributed to this chapter from each one of us.
Garden City, NY (PRWEB) February 29, 2012
The NAPW Centennial Local Chapter gathered on February 17th at The Egg and I restaurant for a professional networking meeting honing in on organization and continuity of meeting times, as well as, the benefits that each member's business can contribute to the growth of the Chapter. Members in attendance included Beth Caldwell, Elizabeth Pecce, Kris Smith, and Susan Dodson.
Beth initiated the meeting at 7:30am, by reacquainting each member and having all attendees network with one another, sharing the principles and objectives of their businesses. The focal point of the meeting was the breakfast attendee drawing.
"Drawings will reward continuous attendance at meetings. Attendees can win a breakfast gift certificate from the restaurant," Beth said. This will be held in March and the date and time to be further discussed.
The group also held an in-depth discussion on member benefits listed on a very well-organized hand out distributed by Beth. A lively conversation followed, geared towards each member's business, their impact on each other, and the benefits of networking for further client growth.
"Since many of our members are business owners, we truly can benefit from the camaraderie and support contributed to this chapter from each one of us," Beth said.
Another topic at February's meeting was the consideration and implementation of magnetic name tags. Kris Smith has located a distributor which will be further discussed in the next Chapter meeting.
The group all agreed on the importance of scheduling guest speakers for upcoming meetings throughout 2012. Beth also suggested rescheduling Susan Dodson, owner of "At Your Service by Susan", for the March meeting. Beth Caldwell will keep the most up-to-date information posted to the NAPW Chapter's bulletin board.
The group briefly discussed the upcoming NAPW National Conference held on Friday, May 18, 2012 at the Sheraton New York Hotel. All members conveyed much eagerness about the upcoming conference and chatted about various topics to be discussed at the conference, as well as ways to successfully network.
Beth informed the group with much enthusiasm, of how important it is to continue to be expectant and positive during this time of initial formation and growth of the Chapter. The discussion also touched on how this process involves change for people to rearrange their schedules to be able to attend these breakfast meetings and that momentum will come with time.
The meeting adjourned at 9:45am. Beth thanked all members who attended for their efforts and excitement of further growth to the Centennial Local Chapter. Beth reassured that the next chapter meeting will be held on March 16 at the same location, The Egg and I restaurant.
The National Association of Professional Women (NAPW) is the largest and most recognized network of female professionals. NAPW provides a forum where women can interact, exchange ideas, educate, network, and empower. NAPW Local Chapters allow members to maximize their experience through meetings, networking opportunities, and professional events.
For additional information regarding the NAPW Centennial Local Chapter and/or NAPW please visit http://www.napw.com.
Follow NAPW on Facebook and Twitter.
###