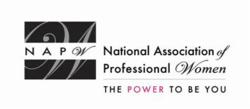 The feedback from this survey will be very beneficial in helping us to better know what members really want and need from their local chapter
Garden City, NY (PRWEB) April 12, 2012
The NAPW Centennial Chapter held a professional networking meeting on March 21st at Mimi's Café. The Chapter welcomed guest speaker Susan Dodson who spoke about her concierge services business, At Your Service by Susan.
Beth Caldwell, Centennial Local Chapter President, opened the meeting at 8:00am, with a discussion regarding the acquisition of magnetic name tags and told the group that Kris Smith will be providing a quote for them. Other topics covered for new business were the breakfast attendee drawing where Kris Smith, the winner received a breakfast gift card from Mimi's Cafe. The Chapter verified the schedule of speakers for upcoming meetings from April through September. The group also decided that a brief survey will be sent out to prospective members in the Centennial Chapter area.
"The feedback from this survey will be very beneficial in helping us to better know what members really want and need from their local chapter," said Beth. "I will keep the most up-to-date information posted to the Chapter's bulletin board."
New business was concluded and the Chapter welcomed the speaker and presenter, Susan Dodson of At Your Service by Susan. Susan spoke briefly about how and why she formed her business providing insight for those members that are interested in forming their own businesses
She also detailed the services that she provides, which target both busy professionals and individuals who need extra assistance running errands, staying organized, and day-to-day tasks.
"I help busy professionals with tasks such as running errands, event planning, gift wrapping, addressing invitations, office organization, and even organizing your move just to name a few," said Susan.
She provided a well-organized handout for each person in attendance listing her business details and contact information. The group all agreed that it was truly enjoyable to learn of her background and business history in how she came to form her company.
###