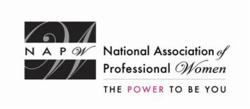 Stacey Lane educated members on the impact of branding and how a well-designed logo is an important component of marketing.
Garden City, NY (PRWEB) July 11, 2012
The Centennial NAPW Chapter met for a professional networking breakfast on June 20, 2012, at Mimi's Café, in Lone Tree, Colorado where guest speaker Stacey Lane of Stacey Lane Design shared her corporate design expertise with members. The meeting kicked off promptly at 7:30 a.m., allowing plenty of time for members to get reacquainted and network.
When Stacey took the floor with her presentation "Where Communication is an Art," members had the opportunity to learn first hand about the importance of corporate design in business from an industry leader. Stacey Lane Design offers expert service in the area of corporate logo composition. "Stacey Lane educated members on the impact of branding and how a well-designed logo is an important component of marketing," said Chapter President Beth Caldwell.
Stacey's design company is service oriented and offers a high degree of customer interaction during the design process. All members agreed the information imparted by Stacey was both informative and helpful.
Beth opened the monthly gathering of professional women by warmly welcoming everyone and updating the group on fellow-member Susan Dodson who has been unable to attend recent meeting because of family illness. "We send our thoughts and prayers for our member, Susan Dodson, whose sister is quite ill," Beth told the crowd.
Ensuring that the Centennial NAPW Chapter continues to offer its members outstanding networking opportunities not only during meetings but through other forms of social media, Beth Caldwell kept members informed of a number of recent and ongoing projects the chapter has undertaken. A brief discussion ensued about the group's efforts to improve its email survey. Beth informed the group that member Elizabeth Pecce is continuing to spearhead this project and has been working with a more efficient tool known as Survey Monkey. Members will soon be receiving more information about this in their email boxes, promised Beth.
Members were also advised that the Centennial NAPW Chapter logo design has been approved. Production of the name tags is well underway and they should be ready and delivered in time for the July meeting. Beth reminded members that she will keep the most up-to-date information about chapter news posted to the NAPW Chapter bulletin board and all were encouraged to check frequently for updates.
Also discussed was the important new business of continuing to pursue the idea of creating a chapter presence on Facebook. Member Kris Smith has been working diligently on this project. Through her creative efforts, the Facebook page for the Centennial NAPW chapter should be launched in the very near future.
Members were also reminded of NAPW's Rising Stars Education Scholarship. In response to member interest and feedback, NAPW extended the opportunity to daughters at all levels in their undergraduate studies. This means any NAPW member's daughter who will be enrolled full-time at any college, university, or certified trade school in the U.S. for the fall 2012 semester is eligible. All interested members were encouraged to check out the details listed on the NAPW website for more information on how their daughters may take advantage of this exciting scholarship opportunity.
The Centennial Chapter meeting adjourned promptly at 9:15 a.m. The next chapter meeting will be held on July 18, 2012, at the same location and time. The scheduled speaker will be Chuck Douglas. Chuck, a leading authority on Business Strategy, will be speaking to the group about Getting Referrals and Closing the Sale.
The National Association of Professional Women (NAPW) is the largest and most recognized network of female professionals. NAPW provides a forum where women can interact, exchange ideas, educate, network, and empower. NAPW Local Chapters allow members to maximize their experience through meetings, networking opportunities, and professional events.
For additional information regarding the NAPW Centennial Local Chapter and/or NAPW, please visit http://www.napw.com.
Follow NAPW on Facebook and Twitter.
###