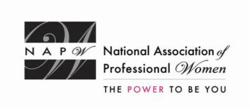 He focused on five of the top ten skills of high income earners and offered feedback regarding a short analysis of the business challenges that each member is currently facing
Garen City, NY (PRWEB) July 25, 2012
The NAPW Centennial Local Chapter gathered on July 18 for a professional networking breakfast at Mimi's Café, 9155 Park Meadows Drive in Lone Tree, Colorado. Members and guests heard expert tips on business survival from Chuck Douglas of GTI Business Seminars during an enlightening roundtable discussion and presentation.
Starting promptly at 7:30am, the Chapter's monthly breakfast meeting was once again the perfect opportunity for members and guests to network, get reacquainted, and stay informed. NAPW Centennial Local Chapter Beth Caldwell graciously welcomed the group's newest member, Cindy Deckerd, a rep from Benefit Resource Group, which is located in Greenwood Village. Cindy's company offers group insurance products and employee benefit solutions.
Beth then introduced this month's guest speaker. Chuck who was there to also talk about GTI's upcoming Sales Mastery Summit for 2012, to be held in Denver at the luxurious Four Seasons Hotel on October 9, 2012. He proved to be a very popular guest speaker.
"Chuck gathered us together for a roundtable discussion and presentation. He focused on five of the top ten skills of high income earners and offered feedback regarding a short analysis of the business challenges that each member is currently facing," said Beth.
Chuck's in-depth knowledge of the struggles many members are currently facing when it comes to business challenges was instantly apparent and he captured the group's attention immediately with his insight and empathy. There was ample opportunity for members and guests to take notes and have each question answered as it pertained to sales and business growth.
"The targeted topics our members and guests brought up during the roundtable discussion with Chuck were getting referrals and closing the sale. There was so much discussion that our meeting time ran over into the 10:00 hour," said Beth.
Beth announced at the meeting that the Chapter's Facebook page is complete and encouraged each member to sign into the group page; the progression of the member survey was also discussed. New, personalized name badges were presented to all Chapter members who have attended a minimum of five Chapter meetings. The badges have a magnetic clasp strong enough to hold through a business suit jacket or sweater. For members unable to wear magnetized name tags, they are available non-magnetized, as well.
The next NAPW Centennial Local Chapter meeting will be held Wednesday, August 15 once again at Mimi's Café. The scheduled speaker will be Elizabeth Pecce, Owner of Definitive Business Assistance, which offers professional bookkeeping and financial analysis services and always keeps in mind the goals of profit and clear direction on moving a business forward.
The National Association of Professional Women (NAPW) is the largest and most recognized network of female professionals. NAPW provides a forum where women can interact, exchange ideas, educate, network, and empower. NAPW Local Chapters allow members to maximize their experience through meetings, networking opportunities, and professional events.
For additional information regarding the NAPW Centennial Local Chapter and/or NAPW, please visit http://www.napw.com.