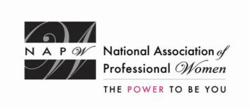 Dreams ...create balance in one's life and facilitate motivation.
Garden City, NY (PRWEB) April 27, 2012
The NAPW Charleston Local Chapter met on April 23rd for a professional networking meeting at The Ice House in Summerville, South Carolina. The Chapter's guest speaker, Betsy Grund, Certified Dream Therapist, educated the group on many apsects of dreams and dreaming.
Catherine Marshall, Charleston Local Chapter President, opened the meeting by welcoming everyone in attendance and handing out NAPW notebooks and pins to NAPW members. She discussed the organization's Mission Statement and asked everyone to network and pass out their business cards. The group learned a lot about each other and enjoyed discussing their businesses.
Next, Catherine introduced guest speaker Betsy Grund, Certified Dream Therapist. Betsy discussed what dreams are, the benefits of dream works, how they work, and how to work a dream.
Betsy said that dreams have been linked to inventions, songs, and the periodic table of elements. She told the group that dreams can help people tap into their potential.
"Dreams can also create balance in one's life and facilitate motivation," she said. She further described how dreams help balance the masculine and feminine energy that is found in a person.
Attendees also learned about how emotions influence on their dreams and in their daily lives.
"Dreams help us understand our emotions and guide us to make the right decisions," said Catherine.
Catherine encouraged the group to bring friends and colleagues to future meetings. She also asked the group if they had recommendations for guest speakers and topics that should be discussed at upcoming meetings. A list of questions was handed out to all in attendance for feedback about what they would like to gain from meetings in 2012. The meeting agenda was then discussed.
Catherine announced that member, Carolyn Goodwine, had volunteered to be Chapter Secretary for the Charleston Local Chapter.
The National Association of Professional Women (NAPW) is the largest and most recognized network of female professionals. NAPW provides a forum where women can interact, exchange ideas, educate, network, and empower. NAPW Local Chapters allow members to maximize their experience through meetings, networking opportunities, and professional events.
For additional information regarding the NAPW Charleston Local Chapter and/or [NAPW please visit http://www.napw.com.