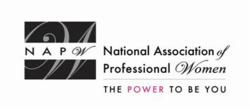 Garden City, NY (PRWEB) October 04, 2012
Members and guests of the NAPW Charleston, SC Local Chapter gathered in August and September for professional networking meetings. Chapter President Catherine Marshall opened both meetings by describing the Charleston, SC Local Chapter Mission Statement and inviting attendees to introduce themselves. At the August meeting, members and guests were treated to a fashion show that was sponsored by Southern Belle Epoque Fine Consignment Boutique.
"On September 12th, we met for a social lunch at Perkins Family Restaurant where members had the opportunity to network a bit and distribute their business cards," said Catherine. "We were thrilled to welcome a new attendee to our group."
The NAPW Charleston, SC Local Chapter meeting held on August 28th took place in the evening at the Club House of Coosaw Creek Country Club. In addition to the networking portion of the meeting, members and guests were treated to a special event, a fashion show that featured a variety of ensembles from Southern Belle Epoque.
"There were six models all wearing outfits put together from the consignment shop," said Catherine. "The models looked stunning and the fashion show was loved by all."
The President thanked Cynthia Dalton of Creative Moments for taking photographs during the evening and for all of her efforts in helping to put the event together. After the fashion show members and guests had the opportunity to take a look at the NAPW website together to see all of the benefits the organization has to offer members.
Donna Ottone, a Zumba instructor, was the evening's sponsor for a drawing. The prize was a Zumba jingle belt.
"All said the Zumba drawing was great fun and feedback and overall response to the August meeting was wonderful," said Catherine.
Before the meeting convened at 7:45pm, Catherine reminded everyone that future meetings are posted on the Charleston, SC Local Chapter Page on the NAPW website.
The National Association of Professional Women (NAPW) is the largest and most recognized network of female professionals. NAPW provides a forum where women can interact, exchange ideas, educate, network, and empower. NAPW Local Chapters allow members to maximize their experience through meetings, networking opportunities, and professional events.
For additional information regarding the NAPW Charleston, SC Local Chapter and/or NAPW, please visit http://www.napw.com.
Follow NAPW on Facebook and Twitter.
###