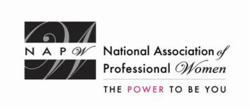 We are excited to have Jami working with us to support the Chesapeake Chapter members' professional needs.
Garden City, NY (PRWEB) August 07, 2012
The ladies of the NAPW Chesapeake Local Chapter gathered in June for a professional networking meet and greet. The Chapter aims to build a vibrant networking community of profession women in the area.
The Chesapeake NAPW Chapter met for its first meeting at the Chesapeake Public Library, Volvo Parkway, Chesapeake, VA. The library conference room was chosen specifically to give the Chesapeake ladies the opportunity to meet and get to know one another. Light hors d' oeuvres and beverages were provided.
Cheryl Davis kicked off the meeting by welcoming the members in attendance and members were requested to briefly introduce themselves and their line of business. Business cards were exchanged.
Member Jami Montefusco, Account Executive for Cox Business, was nominated and has agreed to become the Chesapeake Chapter's new Vice President.
"We are excited to have Jami working with us to support the Chesapeake Chapter members' professional needs," said Cheryl.
Attendees discussed ideas for the direction of the Chesapeake Chapter including charitable efforts, local events, speaker topics, personal growth expectations, venue types, community service initiatives as well as efforts to partner with other local chapters in the Hampton Roads area to increase visibility and participation in the local community. Plans for the direction and objectives of 2012 and 2013 were tabled for continued discussion at the August meeting.
The decision to develop a survey to solicit member interests and preferences was agreed upon. The survey development action is complete and surveys were emailed to the membership with expectations to post results for discussion at the August 30th meeting.
Over all, the Chesapeake NAPW Chapter's first meeting was a success. "We are optimistic that as we grow professionally and in our community, the Chesapeake Chapter members' needs will be met, as will the needs of our community," said Cheryl.
The National Association of Professional Women (NAPW) is the largest and most recognized network of female professionals. NAPW provides a forum where women can interact, exchange ideas, educate, network, and empower. NAPW Local Chapters allow members to maximize their experience through meetings, networking opportunities, and professional events.
For additional information regarding the NAPW Chesapeake Local Chapter and/or NAPW, please visit http://www.napw.com.