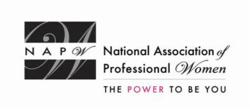 I would like everyone to participate and discuss the differences between customer service and a strong customer loyalty culture
Garden City, NY (PRWEB) April 24, 2012
The NAPW Chicago Local Chapter gathered on Saturday, April 14th for a professional networking luncheon at America's Bar & Grill. The topic for April's meeting was on customer Service and Customer Loyalty.
Megan Wessels, Chicago Local Chapter President kicked off the meeting by welcoming everyone in attendance and introducing member and guest speaker Pam Van Den Bussche, Owner and Organizational Leadership Consultant of Sunrise Valley Associates.
Pam's presentation was on customer service and the importance of customer loyalty. She shared how important it is to establish a good customer service structure, which leads to customer loyalty. She defined what customer service and customer loyalty is and wanted the group to understand the differences between the two.
"I would like everyone to participate and discuss the differences between customer service and a strong customer loyalty culture," said Pam.
The group shared great ideas on how businesses can build a strong customer loyalty base via public relations, marketing and word-of-mouth recommendations. Pan Van Den Bussche can be contacted via email at pam@sunrisevalleyassoc.com for more information about her leadership consultant services. Her website is http://www.sunrisevalleyassoc.com.
Next, Megan discussed upcoming events for the Chapter. She relayed to the group to keep their calendars open for May's meeting, to be held on May 16th at 6:30pm at Union Park Lounge. The topic covered will be Women Business Owners and Business 101: Starting and Growing a Business. For this meeting, Megan and the Chapter decided to have a panel of women business owners and asked the group to send in questions ahead of time so they can direct specific questions to the panelist most qualified to answer them.
"We are looking for a few more business owners, preferably female, who can answer questions from our group about starting a business," said Megan.
Megan briefly discussed June's meeting that will be held on Saturday, June 9th at Cellular Park. The Chapter will be attending a White Sox vs Houston Astros game. She told the group that ticket pricing and purchasing instructions will be announced in more detail at May's meeting.
Members and guests in attendance for April's meeting:
Megan Wessels, Chicago Local Chapter President and Territory Manager at Accurate Color & Compounding; Kim Walberg, Attorney at Shefsky & Froelich Ltd; Robin Schaltz, Director of Creative Services at True Value Company; Lisa Horne, President of Angelfare Ministries; Pam Crenshaw, Chief Experience Officer at Avalon; Marlene Brown, Teacher at Chicago Public Schools; Palma Cesario, President of Avoyatravel/PMC-Travel; Anna Skrzypek, Principal of Social Mapp Media; Linda Johnston, Financial Services Representative at New York Life; Pam Van Den Bussche, Organizational Leadership Consultant and Owner of Sunrise Valley Assoc.; Lisa Henson, President of Henson Healthcare Placement; and Alexis Fincher, Brand Activation Manager at Beam. Anna Skrzypek was a new guest in attendance for April's meeting.
The National Association of Professional Women (NAPW) is the largest and most recognized network of female professionals. NAPW provides a forum where women can interact, exchange ideas, educate, network, and empower. NAPW Local Chapters allow members to maximize their experience through meetings, networking opportunities, and professional events.
For additional information regarding the NAPW Chicago Local Chapter and/or [NAPW please visit http://www.napw.com.
Follow NAPW on Facebook and Twitter.
###