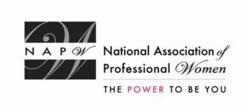 Each panelist had something unique to offer and share with the group. Together they covered many important aspects of being a successful business owner.
Garden City, NY (PRWEB) September 25, 2012
The NAPW Chicago, IL Local Chapter held professional networking events during the months of May and June. During each meeting, members and guests had the opportunity to attend two informative and relevant workshops: "Starting and Growing a Business 101" in May and "Creating Your 'Unique' Personal Brand" in June. May's workshop was presented by a panel of successful women entrepreneurs, many of whom are NAPW Chicago, IL Local Chapter members and in June, member Toby Nathan presented her tips on personal branding.
On May 16th, nearly 30 members and guests gathered at Union Park Lounge in Chicago for an exhilarating and engaging networking event. Chapter President Megan Wessels kicked off the meeting by welcoming the panelists, moderator, and keynote speaker.
"Each panelist had something unique to offer and share with the group. Together they covered many important aspects of being a successful business owner," said Megan. "The room was filled with energy and enthusiasm."
Panelist speakers included: Barbara Sharpiro, Owner and Personal Trainer/Martial Arts Instructor at BeFit Personal; Toby Nathan, Principal at RecruitaStar; Lise Marinelli, President at Windy City Publishers and Second City Books; Lisa Henson, President at Henson Healthcare Placement Inc.; Toby Nathan, Principal and Co-Founder at RecruitaStar; Jamie Pritscher, Chief Brand Officer at NuphorIQ and Co-founder and CEO at That's Caring; Erin Walter, Chief Executive Officer at NuphorIQ; and Dr. Michele Kehrer; Owner and Chief Physical Therapist at LifeStyle Physical Therapy & Balance.
The session was moderated by Jennifer E. Lacroix who challenged and engaged the panelists to explain and offer advice on many key topics including best practices in starting up a new business, creating a brand, and hiring the right talent.
Dr. Terri Friel offered insightful closing statements and touched upon some of the important key points of building a successful business. Her topic was 'Planning for Growth in the Early Years;
How to Build Foundations for Success.'
Megan gave a special thanks to all of the volunteer panelists and speakers for sharing their knowledge and providing inspiration to all who attended the networking meeting. Members, guests, and panelists had this to say about the workshop:
"The panelists did a great job providing inspiration and advice for future women entrepreneurs. Both the moderator, Jennifer Lacroix and Chapter President, Megan Wessels had prepared questions for them in advance that kept the audience engaged and interested in learning from these awesome women," said Robin Schaltz, Director of Creative Services True Value Company and NAPW Chicago, IL Chapter VP Marketing and PR. "You could feel the energy, passion, and empowerment for building a successful business throughout the entire room!"
"It was fun to be part of the panel last night. Thank you for bringing a wonderful group of women together," said Barbara Sharpiro, Owner and Personal Trainer/Martial Arts Instructor at BeFit Personal. "I made new acquaintances, learned information to further my business, and was re-energized through the positive energy of the evening. I look forward to future events."
"It was a great program with awesome speakers that provided so much practical/useful information," said Toby Nathan, Principal, RecruitaStar, LLC. "It was a winner and you were able to create the right energy and team of panelists! Congratulations. The group really complimented each other and thank you for allowing me to be an integral part of the program. I look forward to the June 1st branding program!"
Toby is scheduled to be the guest speaker at the Chapter's June event and will present a workshop titled "Creating Your 'Unique' Personal Brand." Branding isn't just for products or companies. Personal branding can help professionals, entrepreneurs, job seekers, and more stand out from the crowd. Branding (how you package yourself internally and externally) should be the first step in developing your personal and professional career presence. Learn how to develop a strategy to build your brand with easy, practical ideas from Toby. napw.com/profile/10759882/Toby-Nathan/; toby(at)recruitastar(dot)com
The Chapter also organized a White Sox Game for Saturday, June 9th at 3:10pm. The event was open to inviting additional guests, up to two per person. Tickets were $18 per person.
The following 21 members and eight guests were present at the May networking event: Alexis Fincher, Pamela Wilson, Annice Roberson, Creighton Hartanov, Elaine Roberts, Gretchen Weiler, Jamie Pritscher (panelist), Jennifer Lacroix (moderator), Kathryn Kemp, Kim Walberg, Linda Johnston, Lisa Henson (panelist), Lise Marinelli (panelist), Luna Nino, Martha Tierney, Nell Shuttleworth, Petrina, Mccurine, Radomma, PJ Lewis, Robin Schaltz, Sarah Neukom, Toby Nathan (panelist), Terri Friel (closing remarks), Michele Kehrer (panelist), Barbara Shapiro (panelist), Omm Walker, Sherada Washington, Erin Walter (panelist), and Megan Wessels.
Panelists' bios:
Lise Marinelli-NAPW Chicago, IL Chapter Member: napw.com/profile/10855202/Lise-Marinelli/; President at Windy City Publishers and Second City Books; windycitypublishers.com/contact.html; secondcitybooks.com/about-us/. Lise founded Windy City Publishers in January 2009 after realizing the publishing industry was changing dramatically and the old way of doing business was not meeting the needs of new writers. Lise honed her business management and client-service skills as Owner of a number of successful business ventures. Her experience as an Author keeps her connected to the creative side of the publishing business and her mission for Windy City Publishers is simple - continue to serve the literary community with integrity and honesty, and to give writers and authors their best chance for success.
Lisa Henson-NAPW Chicago, IL Chapter Member: napw.com/profile/10947196/Lisa-Henson; President at Henson Healthcare Placement Inc.; hensonhcp.com/about-us. Lisa has enjoyed an exciting and diverse career for the past two decades. In the 1990s, Lisa started off as a lab tech then went on to work for various pharmaceutical and chemical companies in the areas of research and development and quality control. In the 2000s, Lisa traded in her test tubes and beakers for a career in sales. Working for Fortune 1000 companies such as Xerox, Canon, and New York Life, she understands the importance of building solid business relationships with her global clients to address their business needs. As she entered into a new decade, Lisa launched Henson Healthcare Placement Inc., which specializes in healthcare recruiting.
Toby Nathan-NAPW Chicago, IL Chapter Member: napw.com/profile/10759882/Toby-Nathan; Principal and Co-Founder at RecruitaStar; recruitastar.com/our-team.html. Toby is a Principal and Co-Founder at RecruitaStar, LLC, a recruitment service provider in Chicago that helps growing companies by delivering the skills of a traditional search firm in a nonconventional package. An early pioneer in online recruiting, Toby has spent the last 15+ years helping employers ranging from startups to global organizations build talent communities and hire the best talent for their open positions. In her off hours, Toby's passion for helping employers and job seekers connect effectively extends to her volunteer work with the University of Illinois Chicago as an Alumni Career Center Advisory Committee member.
Barbara Shapiro-NAPW Chicago Chapter Member: napw.com/profile/10823625/Barbara-Shapiro; Owner and Personal Trainer/Martial Arts Instructor at BeFit Personal; Training Studio befit4u2.com/about/default.html. Barbara's focus is helping clients achieve better health, improved posture, body awareness, and confidence through core training. Through the use of unstable surfaces and other functional pieces of equipment she emphasizes the importance of training in multi-dimensional planes preparing your body for everyday life. She offers a full body workout concentrating on balance, agility and strength.
Jamie Pritscher-Chief Brand Officer at NuphorIQ ; nuphoriq.com/jamie.html; Co-Founder and CEO at That's Caring; greengiftsshop.com/index.php/meettheteam. At just 28 years old, Jamie knows what it means to be an entrepreneur who combines purpose and passion to be successful. Jamie started her career at Tasty Catering serving as both the Director of Logistics and the Director of Communication for over six years. While at Tasty Catering, she combined her past experiences with her passion for the environment to found That's Caring, an online gift basket company that specializes in providing a "greener way to give" in 2008. Then in 2011, Jamie became a Partner and Chief Brand Officer of nuphorIQ, a creative marketing agency with friend and Tasty Catering co-worker Erin Walter where she goes above and beyond every day to ensure each client interaction is one with fresh creativity, organization, and professionalism. In addition to her career, Jamie is also an active speaker and volunteer in the community where she sits on the Elk Grove Character Counts marketing and communication committees and speaks to the local students about her professional experiences. Jamie has also been a featured speaker at Inc. Magazine and Winning Workplaces Leadership Conference, CEO (Collegiate Entrepreneur Organization) Conference and The Greater O'Hare Association. She has been presented with national awards for her green and leadership efforts: 30 Under 30 for Sustainability Finalist in 2010 and Top 100 Under 50 Emerging Leader by Diversity MBA magazine in 2011.
Erin Walter-Chief Executive Officer at NuphorIQ; nuphoriq.com/erin.html. Erin is a leader with a lot of notches on her belt, often to the surprise of many who are unfamiliar with the incredible work ethic and determination that has found her success at a relatively young age. As further affirmation to her credibility, Erin graduated from DePaul University with a Bachelor degree in Management and Marketing and an went on to obtain an MBA in Entrepreneurship and Marketing Planning and Strategy. She played two seasons in the Women's Professional Soccer league for the St. Louis Athletica, while simultaneously maintaining her position as Director of Marketing for a multi-million-dollar Chicago company, Tasty Catering. Currently Erin is a Co-Founder and Chief Executive Officer of nuphorIQ, a small business marketing company that chooses to remain small in stature but giant in talent.
Dr. Michele Kehrer PT, DPT, ATC -Owner and Chief Physical Therapist at LifeStyle Physical Therapy & Balance Center; balancechicago.com/about-us/staff-facility. Michele played a key role in developing the protocols and equipment used by the few specialists working with neurological dizziness and balance disorders today. Her success rates, contributions, and ongoing innovations to this emerging field have built her reputation throughout the medical community. As an athlete herself, Michele discovered her calling and began on her career path as a result of sustaining a serious sports-related injury in high school. After working in a variety of settings with numerous sports teams while earning her undergraduate degree, she served as Athletic Trainer for Highland Park High School's Lacrosse team while simultaneously treating patients at Peak Therapeutics, a clinic specializing in sports rehabilitation.
Moderator: Jennifer E. Lacroix-NAPW Chicago, IL Chapter member: napw.com/profile/10618210/Jennifer-Lacroix; Associate at DLA Piper; dlapiper.com/jennifer_lacroix/. Jennifer focuses her practice on intellectual property matters, including domestic and international patent prosecution; patent litigation; patent reexaminations; opinions regarding patentability, infringement, validity and enforcement; freedom to operate investigations, assessments and opinions; strategic advice for building patent portfolios; and IP due diligence investigations and analyses. Jennifer practices primarily in the mechanical, biomedical, and chemical fields. She has patent experience in a variety of technical applications. She has been recognized as a Rising Star by Illinois Super Lawyers.
Closing Speaker, Presenter: Dr. Terri Friel-NAPW Chicago Chapter Member: napw.com/profile/10533031/Terri-Friel/. Dr. Friel is a seasoned professional engineer whose extensive experience with analysis, strategy, and turnaround makes her adept at complex organizational analysis, formulating strategy, and planning implementation. Her expertise includes continuous improvement, business process restructuring, and organizational change management. With corporate management experience in Procter & Gamble, Fries & Fries, PepsiCo and academic management at Butler and Roosevelt University, Dr. Friel has demonstrated her ability to solve difficult problems, manage complex and diverse projects, while building a coalition for solving problems to develop new opportunities. With 17 years of teaching experience, her expertise in training and developing people is considerable. She combines her management abilities and her training and development abilities into a unique perspective on how to get the best from individuals and creatively build an organization. She served two years on the Lexington Cooperative Grocery Board, currently as Dean, is responsible to the Roosevelt University Board of Trustees. She chairs a 30-member RU Heller College of Business Advisory Board that she built in two years from five members. She has served as the President of the OMEA (Operations Management and Entrepreneurship Association). She is currently on the executive board of the MBAA (Multidisciplinary Business Association of America). In addition Dr. Friel is a graduate of the Boardroom Bound® Boardology™ Institute and profiled in the National Director-Candidate Database©. She is also serving as a board member of the International Trade Association of Greater Chicago (ITAGC) and was elected to the AIDS Foundation of Chicago (AFC) board October 2011.
At the June 1st meeting NAPW Chicago, IL Local Chapter members and guests benefitted from another fascinating workshop, "Creating Your 'Unique' Personal Brand," this time presented by member Toby Nathan. It was a topic that was very significant and relevant to many attendees.
"Toby presented and explained how important it is to brand yourself effectively online as well as offline," said Chapter President Megan Wessels. "She offered the group tips on how to develop a strategy that meets your objectives for building your own personal brand and presented easy, practical ideas on how to capitalize social media and find online communities that fit your brand."
After Toby's informative talk, Megan announced a number of upcoming events the Chapter had planned including: White Sox Game (vs. Houston Astros) June 9th at 3:10pm at Cellular Park; Wine Tasting and Work-Life Balance – Reclaim Your Time and Reconnect with Yourself July 21st, 1:00pm to 4:00pm, Presenter: Dana Samardzich, CPC, Life Coach with ten years experience; Location: Cooper's Hawk Winery & Restaurant, 15690 S Harlem Ave. Orland Park; and Feminine Power: The Overlooked Advantage, August 15th, Presenter: Dr. Judith Wright, Location: The Wright Pub, 445 E. Ohio, Chicago, Room 340.
The June networking event was well-attended by eight Members and five guests. Attendees included: Angie Bailey, Balquis Arzberger, Blanche R. Stephney, Francesca Salamone, Gloria Iglesias, Jessie M. Stephney, Kathryn Kemp, Megan Wessels, Monica Murphy-Vargas, Shana Kirchner, Tiffany Wendt, Toby Nathan, and Kim Walberg.
The National Association of Professional Women (NAPW) is the largest and most recognized network of female professionals. NAPW provides a forum where women can interact, exchange ideas, educate, network, and empower. NAPW Local Chapters allow members to maximize their experience through meetings, networking opportunities, and professional events.
For additional information regarding the NAPW Chicago, IL Local Chapter and/or NAPW, please visit http://www.napw.com.
Follow NAPW on Facebook and Twitter.
###