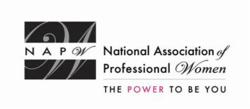 I have volunteered to put together ideas for the Chapter's Mission and would also like the Chapter to be involved in as many charities as we can
Garden City, NY (PRWEB) April 26, 2012
The NAPW Clearwater/Tampa Local Chapter gathered on April 17th at 11:30am for a professional networking meeting at City Fish. The Chapter's topic of discussion was future goals and charitable organizations.
Robin Puskar, Clearwater/Tampa Local Chapter President kicked off the meeting by greeting all in attendance. She asked the group to network, talk about their businesses, and share information about each other.
Robin announced that there have been volunteers for Board positions and that member Leslie Leaver volunteered as the Vice President, Heather Brown as Secretary, and Christina Davenport as Treasurer. The Chapter was thrilled with its progress and plan on working diligently to increase attendance, and focus efforts on charitable organizations.
Darleen Varona volunteered to find charities that the Chapter could represent and participate in. The group shared ideas and discussed different charities they would like to become a part of. This has now become the Mission for the Chapter.
"I have volunteered to put together ideas for the Chapter's Mission and would also like the Chapter to be involved in as many charities as we can," said Leslie. "It is important for the Chapter and its members to give back to the community."
Next, Robin and the group discussed future guest speakers. They all agreed that individuals in the community such as the Chief of Police, the former Mayor of Tampa, and other individuals that hold similar positions would be great speakers at the meetings. Robin relayed that this will be discussed in more detail at the next meeting.
Robin thanked everyone for coming and told the group to stay posted for more information about the venue for May's meeting. Randi Norman volunteered to help Robin with finding a location for the luncheon in the Westshore area of Tampa. The next meeting is to be held on May 16th at 11:30am.
Members in attendance were Robin Puskar, Clearwater/Tampa Local Chapter President; Leslie Leaver; Heather Brown; Christina Davenport; Marti Selgert; Randi Norman; Darleen Varona; Iris Gantz, Sharon Drenner; Alisa Savoretti; Gwendolyn Alexander; Harrison Griffith; and Robyn Gyuru. Alyse York , Financial Manager of Hands on Education and Christine Hardway, LCSW of Creating Positive Outcomes were two new guest in attendance.
The National Association of Professional Women (NAPW) is the largest and most recognized network of female professionals. NAPW provides a forum where women can interact, exchange ideas, educate, network, and empower. NAPW Local Chapters allow members to maximize their experience through meetings, networking opportunities, and professional events.
For additional information regarding the NAPW Clearwater/Tampa Local Chapter and/or NAPW please visit http://www.napw.com.
Follow NAPW on Facebook and Twitter.
###