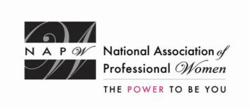 With this being our first meeting I would like to proudly hand out to members a handmade tote bag that has the Chapter's name embroidered on the front...
Garden City, NY (PRWEB) May 16, 2012
The NAPW Conroe Local Chapter met on Tuesday, May 8th for a professional networking luncheon at the Chocolate Passion restaurant at 1520 Frazier Street, Conroe, Texas.
Chocolate Passion is just north of downtown Conroe. The restaurant creates wonderful chocolate confections, as well as soups, salads, and sandwiches. The restaurant has a seating area that seats 6-8, but also has a banquet room that can seat up to 80. This location is perfect for a group that expects to grow.
Wendy Leonard, Conroe Local Chapter President, kicked off the launch meeting by welcoming Dana Pike and Ann Parsons Newman, asking each to introduce themselves and their present and past business endeavors. Wendy handed out custom bags and notebook organizers to members as a personal launch meeting gift.
"With this being our first meeting I would like to proudly hand out to members a handmade tote bag that has "National Association of Professional Women Conroe Chapter" embroidered on the front and a cloth-covered notebook, also embellished with "NAPW Conroe" embroidered on a band around the front cover," said Wendy.
The notebook has the capacity to hold business cards, store pages for flyers and handouts. Also included in the bag was the welcome materials that NAPW National had provided the Chapter. The group went one by one with introductions of their businesses and professional backgrounds.
Wendy is the Owner of Leonard Data Services and a Consultant for LaBella Gift Baskets. Wendy has twenty years' experience as a legal secretary and ten years' experience as a Certified Shorthand Reporter for the State of Texas. She left the commute behind and now freelances as a Writer and Editor, Graphic Designer, Sewing Instructor, and Gift Basket Consultant. Her data service's website is leonarddaraservices.com and Labella Gift Baskets' website is labellabaskets.com/Qstore.cgi?AID=5685.
Dana Pike is the Owner of Tire and Truck Masters in Conroe, Texas, which is a family-owned and operated business. Dana's team includes her father and brothers. They specialize in diesel repair and tire sales and distribution.
Ann Marie Parsons Newman is the Owner of Orange Shoe Personal Fitness in The Woodlands, Texas. She is also a former educator and holds a PhD in instructional design. Ann has taught both in the United States and at international schools in Peru and Malaysia.
Wendy led a discussion she entitled "What Do We Want to Be When We Grow Up." As a new chapter, Wendy stated that they need to decide what the mission and purpose is going to be.
The following concepts were discussed and each member was asked to take these topics home with them and come back with specific proposals at the next meeting.
"Do we want to be known as a group of professional women who stay to themselves, or do we want to leave a footprint in the community?" said Wendy. "If we're going to leave a footprint, where do we want it to be placed?"
Wendy suggested that the Chapter should become more involved with The Montgomery County United Way Women's Initiative. It is a group of local business women who elect to have their contributions earmarked to the Women's Initiative and each is a member of the Initiative. Their mission is to put their time and energy into helping local underprivileged women and children. Examples of their work will include helping women write resumes, learn to interview for jobs, and working with Dress for Success.
She also suggested having the Chapter becoming more involved with the local schools. Wendy told the group that they could select a school where a majority of the students are from underprivileged homes and approach the counselor or principal about how they could work with girls.
"If we choose a high school, we would prepare a curriculum that could be presented in a small group format perhaps after school one day a week," said Wendy. "The girls would rotate through different topics that would help prepare them to leave school and enter college or the work force."
Topics that the group all agreed upon would include how to create a resume, filing out a job applications, filing in standard employment forms after being hired, understanding benefits and insurance options, preparing for a job interview, participating in simulated job interviews, and employers look at social media accounts and other affiliations
The Chapter found that topics on what is expected when one goes to college are of great importance. Many of the women have children and some plan on going back to school. Topics to be covered will be on financial aid, college applications, entrance exams, scholarships, how to prepare while still in high school, selecting a major and selecting the right college that fits one's needs.
The group discussed the Chapter's Mission Statement and is still taking suggestions. They all think that it should revolve around "who we want to be when we grow up". They all agreed that they will talk more about this at the next meeting.
The next meeting will be held at Dana Pike's home at 95 Windsor, Conroe, Texas, at 7:00 p.m.
Wendy relayed that there will be provisions and finger foods available for those attending. Wendy expects to spend the summer planning the Chapter's volunteer activity and the guest speakers for future meetings.
The National Association of Professional Women (NAPW) is the largest and most recognized network of female professionals. NAPW provides a forum where women can interact, exchange ideas, educate, network, and empower. NAPW Local Chapters allow members to maximize their experience through meetings, networking opportunities, and professional events.
For additional information regarding the NAPW Conroe Local Chapter and/or NAPW, please visit http://www.napw.com.
Follow NAPW on Facebook and Twitter.
###