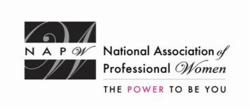 Since this is the Chapter's first meeting, decisions should be made on locations, times, dates, food choices, meal costs, and structure of future meetings
Garden City, NY (PRWEB) April 28, 2012
The NAPW Daytona Beach Local Chapter gathered on Wednesday, April 11th for a professional networking meeting at Vince Carter's restaurant. For the Chapter's first meeting, the group established and created structure for future success.
Professional women from the construction, education, home services, marketing, non-profit, and security industries attended Daytona Beach Local Chapter's launch party.
"Since this is the Chapter's first meeting, decisions should be made on locations, times, dates, food choices, meal costs, and structure of future meetings," said Chelsea.
There were sixteen women in attendance; eleven were members and five were guests.
Chelsea Patrick, Local Chapter President, handed out gift bags that contained information about their membership, NAPW note pads, and a leather bound journal. Guests received information about joining NAPW and the benefits of membership.
It was decided by the group that the May meeting would not have a member or guest speaker, but instead have a 'Speed Networking' session, so that members could continue to get to know one another and their respective businesses better.
Chelsea told the group that future meetings will consist of ten minute presentations from selected members, so that each member will eventually have a chance to go into depth about her business and answer questions. It was discussed that once a quarter, an outside guest speaker would be present. She asked everyone in attendance if they had any suggestions for guest speakers.
Also discussed were the benefits of NAPW. Each member was asked to share what they wanted to gain from the organization and the benefits they have already received. Many of the women agreed that they all wanted to interact, exchange ideas, educate, and empower one another.
"Women from all industries are invited to join and attend the monthly meetings," said Chelsea. "It is also encouraged to bring a guest who you feel might benefit from NAPW."
Both Chelsea and the group decided that the Chapter will meet on the third Wednesday of every month at Vince Cater's restaurant. She told everyone in attendance to relay information to any professional women living in the Daytona Beach, Ormond, Palm Coast, and Port range area, that they are invited to attend. Cost of meals was also discussed and agreed upon. Meals for each meeting will cost attendeea $22 per person. An RSVP is required.
The National Association of Professional Women (NAPW) is the largest and most recognized network of female professionals. NAPW provides a forum where women can interact, exchange ideas, educate, network, and empower. NAPW Local Chapters allow members to maximize their experience through meetings, networking opportunities, and professional events.
For additional information regarding the NAPW Daytona Beach Local Chapter and/or NAPW, please visit http://www.napw.com.
Follow NAPW on Facebook and Twitter.
###