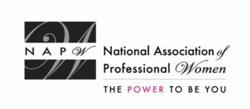 The mission of the NAPW Delaware County, PA Local Chapter is to strive to empower others by sharing our experiences, encouraging learning, and supporting growth.
Garden City, NY (PRWEB) November 29, 2012
Members and guests of the NAPW Delaware County, PA Local Chapter gathered on October 18th for a professional networking meeting at the Glenolden Library. It was the second official meeting of the recently launched Chapter which, in an effort to offer even more networking opportunities for members, announced its partnership with the NAPW Philadelphia, PA Local Chapter. Professional women in Delaware County, PA also chose a Mission Statement and named Chapter Board and Committee members for the NAPW Delaware County Chapter.
With the inspiring song 'I'm Every Woman' by Chaka Khan playing in the background, Delaware County Chapter President DeAnne Lonnquist opened up the meeting, welcoming members and guests to the monthly event. She announced the important new partnership between the Delaware County Chapter and the more established Philadelphia Chapter.
"In the spirit of collaboration, NAPW Delaware County Chapter will be working with the Philadelphia Chapter to provide opportunities to reach more women, increase networking, and strengthen relationships. We want to move forward in helping each other and our communities," said DeAnne.
DeAnne invited attendees to introduce themselves and network. Afterward, DeAnne formally read aloud the Chapter's Mission Statement that was selected by Chapter members.
"The mission of the NAPW Delaware County Local Chapter is to strive to empower others by sharing our experiences, encouraging learning, and supporting growth," she said.
DeAnne announced that a number of Chapter Board positions had been filled. She provided everyone with a description of the roles and responsibilities that would fall under each Board position. The selected members are as follows:
Veronica Pszoniak, Vice President- primarily responsible for being a supportive leader and assist with planning.
Pamela Scott, Secretary -primarily responsible for recording minutes and submitting to the Chapter President for review before posting.
Rocquel Y. Neale, Treasurer-primarily responsible for collecting funds raised for speakers and charity to be maintained in an NAPW agreed location.
Carol Dalessio, VP of Events/Membership-primarily responsible for coordinating locations for meetings and co-joint and single-run events.
Veronica Pszoniak, Events Committee Membe -assistant to the VP of Events to aid with planning and coordination of all of the upcoming Chapter events.
Melinda Fern, Events Committee Photographer.
Kelli Wallace, SMG Committee Coordinator (Social Media Guru)-primarily responsible for updating and maintaining social media platforms for the Chapter.
Marcia Wormack, SMG Committee Member-Assistant to the SMG Coordinator who will provide backup technical assistance and provide ample feedback and suggestions to guide the growth of the Delaware County Chapter's online presence.
"The enthusiasm of the group was evident throughout the evening. When they learned of the Board and Committee positions, some of the members voiced their desire to be a part of the committees or volunteer for positions," said DeAnne. "Guests were eager to join NAPW."
DeAnne said there are still a few open Board positions that will be filled in future meetings.
Members discussed and created the new Board position of Charity Chairman. This person will help find charities and resources in the community with whom the Delaware County Chapter may get involved.
During the meeting, several members explored the idea of creating name badges for presentations and expos. Chapter Events Committee member Veronica Pszoniak and others volunteered their services for this project. The women talked about having tables and doing presentations at different conferences and networking events.
DeAnne spoke to the group about sharing 'nuggets' of knowledge and experiences with one another through a 'Professional Nugget' event. If members aren't able to attend they can still contribute their 'nugget.' These 'nuggets' would be made into a book that could be used for a fundraiser for a charity of the chapter's choice.
Members and guests discussed future meeting topics and guest speakers. DeAnne stated she would be doing a couponing workshop for the Philadelphia Local Chapter's November meeting. They also explored having a photographer take professional headshots and discussed having a NAPW local business directory of members, businesses, services, and resources.
"The upcoming November meeting will include sharing 'professional nuggets,' and how to best serve the charity the Chapter has chosen for this quarter," said DeAnne. "I thank all members and guests for their enthusiasm and excitement for making this meeting a success!"
Upcoming Delaware County Local Chapter meetings will be held November 15th and December 17th.
DeAnne Lonnquist, Delaware County Chapter President and SMG Coordinator for the Philadelphia, PA Chapter, is a Recovery Counselor at CATCH Inc. She is an Art Therapist and Artist. She loves to coupon. Visit her website at muralsandmirrors.com/ or contact her at detig2(at)yahoo(dot)com.
Kelli Wallace is Owner/Chief Executive Style Consultant of GEM Styles by K&M. You can contact her at kelli(at)kmgemstyles(dot)biz. Check out her website at hopgemstyles.com.
Melinda Fern is the Owner of Frisky Worldwide Solutions LLC. Part of her work is to promote Organo Gold coffee and tea. Contact her at ogwithme(at)gmail(dot)com.
Pamela Scott, is a Marketing Specialist and has created and collaborated in making products to bring fitness into people's lives who are busy working and/or have physical limitations. Contact her at pamscott10(at)gmail(dot)com.
Veronica Pszoniak is Owner and Operator of Pszones Auto Repair. She is also a Project Manager at Christiana Care. She also sells Avon and LaBella baskets. Contact her at veronica.pszoniak(at)rcn(dot)com.
Rocquel Y. Neale is an Independent Contractor/Community Habilitation Specialist at Diversified Supportive Services, LLC. Contact her at rocquelneale(at)yahoo(dot)com.
Guests were Carol Dalessio, licensed Massage Therapist and Esthetician. She can be reached at carol(dot)dalesssio(at)yahoo(dot)com. Marcia Wormack, GEM styles by K & M, specializes in fashion jewelry and consultations. Contact her at Marcia(at)kmgemstyle(dot)biz.
Minutes Recorded by DeAnne Lonnquist, Delaware County Chapter President.
The National Association of Professional Women (NAPW) is the largest and most recognized network of female professionals. NAPW provides a forum where women can interact, exchange ideas, educate, network, and empower. NAPW Local Chapters allow members to maximize their experience through meetings, networking opportunities, and professional events.
For additional information regarding the NAPW Delaware County Local Chapter and/or NAPW, please visit http://www.napw.com.