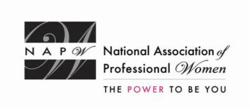 The mission of the Delaware County Chapter of the NAPW is to strive to empower others by sharing our experiences, encouraging learning, and supporting growth...
Garden City, NY (PRWEB) December 04, 2012
Members and guests of the NAPW Delaware County, PA Local Chapter gathered on November 15th for a professional networking meeting at Glenolden Library. During the event, the group of professional women was formally introduced to the new Chapter Board members. Chapter President DeAnne Lonnquist also restated the Chapter's Mission Statement that was agreed upon in the October meeting.
After welcoming members and guests to the Chapter meeting, DeAnne read aloud the Mission Statement and introduced the new board members.
"The mission of the Delaware County Chapter of the NAPW is to strive to empower others by sharing our experiences, encouraging learning, and supporting growth," read DeAnne. "I'd also like to formally introduce the eight newly elected Chapter Board members."
Board members and guests who were in attendance: Veronica Pszoniak, Vice President; Pamela Scott, Secretary; Rocquel Y. Neale, Treasurer; Carol Dalessio, Vice President of Events/Membership; Veronica Pszoniak, Events Committee Member; Melinda Fern, Events Committee Member; Kelli Wallace, SMG (Social Media Guru) Committee Coordinator; and Marcia Wormack, SMG Committee Member. DeAnne informed the group that there were still a few open Board positions that should be filled at future meetings.
Carol Dalessio, Vice President of Events/Membership, next led a discussion on the types of events that members would want to see as part of the event program.
"Members agreed that we would target events that would occur during Chapter meetings, as well as events that would take place in the community," said DeAnne. "Further thoughts and ideas will be discussed at the next meeting."
The group then discussed the newly created Board position of 'Charity Chairman,' who will help the Chapter connect with charities and resources in the community. Delaware County members selected Philadelphia Chapter President Naketa Thigpen to fill this position. In addition, Katrina Brittingham was selected as Charity Committee Member.
The idea of creating Delaware County name badges for presentations and expos was again discussed. Susan Zambon, a member specializing in advertising specialties, said she would look into this further.
DeAnne then spoke to the group of women once more about the concept of 'Professional Nuggets,' a book of 'nuggets' of knowledge and experiences shared by NAPW members. The book will be used for a fundraiser for a charity of the Chapter's choice. To contribute a 'nugget,' e-mail DeAnne at detig2@yahoo.com or bring it to the December Chapter meeting.
"I encourage all members to contribute 'nuggets' even if they aren't able to attend Chapter meetings," said DeAnne. "It will be for a wonderful cause."
DeAnne asked one of the guests present at the November meeting, Susan Colonna, a Photographer, to return to a future NAPW Chapter meeting to take professional headshots. Details to come later.
Members and guests talked about the upcoming 'couponing workshop' that will take place during the next Philadelphia, PA Local Chapter meeting on December 5th. All members were encouraged to attend. DeAnne plans to do another workshop for the Delaware County Local Chapter in Spring 2013.
The next Chapter meeting on Monday December 17th, will be the Holiday Party. The party, themed 'Pamper Yourself Before the Holidays' will be from 6:30pm to 8:30pm at Crum Lynne
Valley Condominiums. In addition to the pampering services that will be available, the festivities will include a professional violin player, a 'Chinese Pollyanna,' finger food, and holiday refreshments. Each member will contribute by bringing one dish or treat, and a wrapped gift ($5 limit) for the Pollyanna.
"As with all Delaware County Chapter meetings, guests are welcome and encouraged to attend!" said DeAnne.
Individual introductions of all attendees were conducted and the sharing of experiences was encouraged. The following members were in attendance at the November Delaware County Local Chapter meeting:
DeAnne Lonnquist, Chapter President and SMG Coordinator for the Delaware County Chapter, is a Recovery Counselor at CATCH Inc. She is an Art Therapist and Artist. She loves to coupon. Visit her website at muralsandmirrors or contact her at detig2(at)yahoo(dot)com.
Melinda Fern is the Owner of Frisky Worldwide Solutions LLC. She is an avid Promoter of Organo Gold coffee and tea. Contact her at ogwithme(at)gmail(dot)com.
Susan Zambon is an Advertising Specialties Account Executive with Proforma Spectrum Graphics. She can help you promote your business, event, or cause with high-quality promotional items. Contact her at szambon(at)psgnj(dot)com.
Rocquel Y. Neale is an Independent Contractor/Community Habilitation Specialist, working with mentally challenged adults. She is also pursuing a career in personal training and one day will join the fight on childhood obesity and open up a gym for children. Contact her at rocquelneale(at)yahoo(dot)com.
Pam Scott is a Senior Marketing Professional with over 20 years of experience in B2B and B2C industries. She recently created and collaborated in making products to bring fitness into people's lives that are busy working and/or have physical limitations. Contact her at pamscott10(at)gmail(dot)com.
Katrina Brittingham is a Senior Claims Analyst for the School District of Philadelphia. She enjoys helping job seekers with developing resumes and career profiles. Contact her at kbrittingham(at)philasd(dot)org.
Naketa R. Thigpen, Philadelphia Chapter President, is President and Co-owner of Thigpen's
Professionals, LLC, which provides personal and professional development services through employee- and executive-focused in-service training, interactive workshops for trainers, empowerment seminars, and coaching services for entrepreneurs. Visit her website at thigpro.com; follow Naketa on Facebook or Twitter.
Our guests were Carol Dalessio, a Licensed Massage Therapist and Esthetician. She can be reached at carol.dalessio(at)yahoo(dot)com. Susan Colonna is a Photographer and writer who had used her skills to create motivational print and home décor items.
Upcoming Delaware County Local Chapter meeting dates are: December 17th, January 17th, and February 21st.
The Chapter minutes were recorded by Chapter member Pamela Scott, Secretary.
The National Association of Professional Women (NAPW) is the largest and most recognized network of female professionals. NAPW provides a forum where women can interact, exchange ideas, educate, network, and empower. NAPW Local Chapters allow members to maximize their experience through meetings, networking opportunities, and professional events.
For additional information regarding the NAPW Delaware County Local Chapter and/or NAPW, please visit http://www.napw.com.