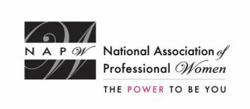 The Gallery was impressive and we were thrilled to be a part of a fellow member's success
Garden City, NY (PRWEB) April 11, 2012
The NAPW Erie Local Chapter met on Monday, March 19 at 5:30pm for a professional networking meeting at the D'Hopkins Denniston Gallery. Member and Artist, Diana Denniston, had just opened the gallery and treated the Chapter to a preview and tour of the wonderful collections that she had on display. Members in attendance were Diana Denniston, Yvonne Horn, Terri Koebe, Marion Taylor, Sandi Carangi, and Carol Drury who is a new member of the group.
Sue Moore, Erie Local Chapter President, started the meeting by welcoming all in attendance and introduced Carol to the Chapter. Each member in attendance briefly shared about themselves and their businesses. Carol just started a new position with Caring Place and shared her success story with the Chapter. During her introduction, the group refreshed each other on what has been going on for the past two months.
"Congratulations were in order for many members who had successes in their careers since our last meeting," said Sue.
Diana then talked about the new gallery and the artists that she has found from around the world. She relayed to the group that has spent the last three years organizing for the opening. Her first event was held the previous Friday, March 16th as part of the Erie Arts community open houses. She told the group that the "first "official" opening date of the gallery will be March 20th.
"The Gallery was impressive and we were thrilled to be a part of a fellow member's success," said Sue. "We all wish her much success."
Sue invited all members to attend co-meetings with the Erie BPW Group and gave a brief update on the last few months' activities of the Erie Chapter.
The group went into a brief discussion about the National Conference in New York City and which members from the Chapter will be attending. A discussion was held and agreed that next month's speaker will be Joellen Nelson of Edward Jones who will hold a discussion about topics revolving around 'Planning for our Future'.
All members in attendance gave a special thanks to Diana and Sue for the delicious food and local wines that were served. Sue relayed information for the next meeting that will be held April 17th at Denniston Gallery at 5:30pm.
The National Association of Professional Women (NAPW) is the largest and most recognized network of female professionals. NAPW provides a forum where women can interact, exchange ideas, educate, network, and empower. NAPW Local Chapters allow members to maximize their experience through meetings, networking opportunities, and professional events.
For additional information regarding the NAPW Erie Local Chapter and/or [NAPW please visit http://www.napw.com.