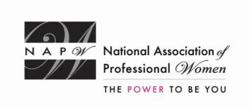 We can increase attendance by connecting with other local chapters, recruiting non-members, getting involved in social networking groups, and participating in charitable and events
Garden City, NY (PRWEB) March 16, 2012
NAPW Essex County Local Chapter gathered for a productive professional networking meeting at Papillion on February 28th. The group focused on ways to have the Chapter be more involved in the community and in social networking groups. They also aim to increase attendance.
Members in attendance were Belinda Gail Fladger, President, A. Beverly Grissom of Afro Travel by Bev, and E. Dawn Estelle of New Journey's of Life. Vickie Moultrie, Chief Operating Officer of Cartridge World USA and Carla Ross, Senior Administrative at NJPAC, were two new guests in attendance.
Belinda kicked off the meeting at 7:15pm by introducing herself to the group and thanking all who came. She asked everyone to introduce themselves, explain what they do for a living, and talk about their business' goals.
Next on the agenda the group discussed ways to improve all aspects of the Chapter and ways to keep meetings exciting and fun.
"We can increase attendance by connecting with other local chapters, recruiting non-members, getting involved in social networking groups, and participating in charitable and events," said Belinda.
She then discussed was ways to promote the groups businesses within the local community. The group gave each others business cards to one another and chatted about advertising opportunities and using NAPW as a way to optimize their business.
A raffle was held for members in attendance to win various prizes. Dawn won a $15 Starbucks gift card, Vickie won a $15 Walgreens gift card and Beverly won a $25 American Express gift card.
Belinda thanked everyone for coming and asked members to think of new creative ideas to discuss at the next meeting.
The National Association of Professional Women (NAPW) is the largest and most recognized network of female professionals. NAPW provides a forum where women can interact, exchange ideas, educate, network, and empower. NAPW Local Chapters allow members to maximize their experience through meetings, networking opportunities, and professional events.
For additional information regarding the NAPW Essex County Local Chapter and/or NAPW please visit http://www.napw.com.
Follow NAPW on Facebook and Twitter.
###