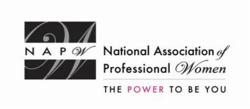 I am very grateful to have the opportunity to be your current Acting President...NAPW Essex County Chapter is excited to get the ball rolling and eagerly anticipates our future meetings.
Garden City, NY (PRWEB) September 11, 2012
The Essex County Local Chapter successfully re-launched on August 23rd with a professional networking meeting at Rio Rodizio Brazilian Steakhouse on 1034 McCarter Highway in Newark. Nearly 25 women came together to network and hear guest speaker Tina
Graham, coordinator of many top celebrity comedy events, share her inspiring story.
Members and guests enjoyed a delicious all-you-can-eat buffet plus other catered food in the private dining quarters of Rio Rodizio's. The manager, Dafinis Filho, and staff all went out of their way to make the event a success. The women were greeted at the door of the private room and provided with member and non-member literature and accessories from NAPW National.
After introductions, members and guests visited the buffet, which was just the beginning of an on-going, tasty dinner. Afterward, they were treated to even more food, with Rio Rodizio's staff showering them with assortments of meat, juicy and steaming, straight from the grill. Throughout the meeting, the women were attentively catered to by Rio Rodizio's hosts and staff and photographed by Abdur Ali.
While the members and guests enjoyed dinner, Tashanisha Murray-Lopez, Acting President of NAPW Essex County Local Chapter, kicked off the Chapter's re-launch with an enthusiastic welcome to the 14 members and ten guests. After introducing herself, Tashanisha insisted that all the women give themselves a round of applause for attending the meeting in such a professional manner.
"I am very grateful to have the opportunity to be your current Acting President," Tashanisha told the crowd. "NAPW Essex County Chapter is excited to get the ball rolling and eagerly anticipates our future meetings."
Tashanisha also thanked the guests who attended, telling them that NAPW looks forward to having them as members. She then went on to passionately share her accomplishments and goals, and outlined the future contributions she planned to make toward the Chapter. Next, Tashanisha invited each woman to take the floor and share a bit of herself.
"Every woman expressed her humbled achievements and anticipated contributions toward NAPW Essex County Local Chapter's future goals," said Tashanisha. "The women were eager, passionate, professional, beautiful, grateful, inspiring, and ready to give Essex County Local Chapter a strong and powerful voice."
After all the women took a stand, presented themselves and networked, business cards and business literature fluttered the floor.
"Women, you all were awesome," Tashanisha told the crowd.
The evening also included a presentation by guest speaker Tina Graham. For over 20 years, Tina has been behind the scenes establishing and coordinating celebrity comedy events such as Def Comedy Jam and current celebrity comedy events. However, Tina has an inspiring story to share with the world and members and guests were able to get a taste of it at the networking meeting. Due to authorized consent from Tina, the degree of her story cannot be released at this time, but there are future plans for Tina to speak at a future NAPW Essex County Chapter event. Stay Tuned.
During the evening, Tashanisha pointed out a symbolic message for the Chapter.
"Just as the Essex County Chapter is being birthed, our very own NAPW member Robyn Cassidy will be giving birth to her beautiful baby girl within the next six weeks. As Robyn shall push her seed of life, so shall NAPW Essex County Local Chapter," she said.
Guest Nicole Stanley was the lucky winner of the secret $100 Wal-Mart gift card and to give the others a taste of her business, member Stacia Douglas baked her delicious cupcakes for all of the women.
Members in attendance at the re-launch meeting included: Michelle Hamer, Maicie Hodgson, Stacia Douglas, Robyn Cassidy, Daryl Gwaltney, Vashonna Hassett, Ciara Rivers, Dawn Estelle, Goretta Grant, Heather Small, Karen Pierce, Genevieve, Tawana Johnson, and Tashanisha Murray-Lopez
Guests included: Riette Gouwns, Sharifa Butler, Rona Wade, Kia Macklin, Nicole Stanley, Pat Brown, Tara Williams, Natasha Davis, and Nakiesha Brown.
The National Association of Professional Women (NAPW) is the largest and most recognized network of female professionals. NAPW provides a forum where women can interact, exchange ideas, educate, network, and empower. NAPW Local Chapters allow members to maximize their experience through meetings, networking opportunities, and professional events.
For additional information regarding the NAPW Essex County Local Chapter and/or NAPW, please visit http://www.napw.com.
Follow NAPW on Facebook and Twitter.
###