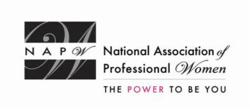 The room was filled with powerful women of diverse backgrounds who shared the common goal of wanting to help others.
Garden City, NY (PRWEB) October 09, 2012
Members and guests of the NAPW Essex County, NJ Local Chapter gathered for their second professional networking meeting on September 21st. The group met in a private dining room at Rio Rodizio Brazillian Steakhouse in Newark, a perfect venue where attendees enjoyed great dining and great service. In her welcoming address, Essex County, NJ Local Chapter President Tashanisha N. Murray-Lopez acknowledged the newly appointed Board Members as well as the evening's guest speaker Ngozi Emenyeonu from the United Negro College Fund (UNCF). Future plans for the Chapter, including suggestions for charities the Chapter may support, were also discussed.
After announcing the new Board Members: Michelle Hamer, Chapter Vice President: Coretta Grant, Director of Communications; Heather Small, Fundraiser Manager; and Sheba Jordan, Media Relations/Production Manager, the Chapter President invited members and guests to introduce themselves and share with the group their interests, expertise, and understanding of NAPW.
"The room was filled with powerful women of diverse backgrounds who shared the common goal of wanting to help others," said Tashanisha.
Freddie William of Manhattan, the photographer for the evening, took many wonderful pictures for the Chapter. He, too, was awed by the women in the room. The only male present, he spoke about how impressed he was seeing so many powerful women come together for a cause.
"There is nothing more impressive than a woman with a mission!" said Freddie.
A main topic of discussion at the meeting was how the NAPW Essex County, NJ Local Chapter could help each other and the community.
"'NAPW is about taking control of our lives and our future; networking, sharing ideas, and helping each other gain success professionally and socially' says Star Jones, NAPW's National Spokeswoman," Tashanisha told the crowd. "That being said, a large part of the NAPW Essex County, NJ Chapter's mission is to help one another and others in the Essex County community gain and maintain success."
Guest speaker Ngozi Emenyeonu of UNCF kicked off the evening's discussion of giving back by speaking about her organization and the important work it does. She encouraged Chapter members to support UNCF's mission by sponsoring a student and inquiring about diversity programs in the workplace.
"She gave handouts to members with important information about the program and ways to help," said Tashanisha.
The President announced that UNCF would be one of the charities the NAPW Essex County, NJ Local Chapter would support. Members and guests recommended a number of other charities and fundraisers that the Chapter could help through volunteering, fundraising, etc.:
●Dress for Success (recommended by member Belinda Gail Fladger-Tax Consultant and former Chapter President and Maria Afsharian, Communications and Media) is a program that provides clothing, training, and other support/resources to working women who need it. Although the Essex County branch is no longer in operation, there is at least one Dress for Success program currently operating in New Jersey.
●Children Born w/HIV (recommended by guest Platinum Jordan-Task Force Security Sergeant) is a cause that anyone with a heart should be sympathetic toward. Many of these children are abandoned at birth. Unaware of an existing fund for people born with HIV, the Chapter will conduct further research.
●Fathers and Sons (recommended by guest Demeta DeCosey-Co-author of Brick City Blues). Ms. DeCosey informed the group that Fathers and Sons is a program where men work with children providing clothing, book bags, food, life skills, and other resources as needed. Further research about this program is needed.
●FP YouthOutcry Foundation (recommended by Chapter Vice President Michelle Hamer) is an organization that helps families in Newark, New Jersey. It provides mentorship to youth and families. The organization is known for its coat drives and other initiatives designed to help underserved residents of Newark become successful, productive members of society.
●Making Strides Against Breast Cancer Walk (recommended by member Kia Macklin-CPA) is an American Cancer Society event in which millions of people across the world participate each year in October. It was agreed at the meeting that NAPW Essex County, NJ will participate in this year's walk in Newark, New Jersey.
●Empowerment Symposium with Life Coach Noela (recommended by member Robyn Cassidy, Sr. Manager of the Vision Team and Riette Gouws, Associating Partner and member in progress). Robyn was unable to attend the meeting physically so she provided input via phone and email messaging. She informed us that Noela has built a multi-million dollar business in the health/wellness industry based out of South Africa and that she's spent 37 years traveling around Africa speaking on women's empowerment. Noela plans to visit the U.S. in November and will be delighted to speak to us. The symposium would be offered at a nominal fee and the money raised would be donated to a Chapter- designated charity. Chapter President Tashanisha announced that this event will be the Chapter's first fundraiser. Heather Grant, Fundraiser Manager will research all fundraising ideas to make sure legal protocols are met.
●Theatre Workshops (recommended by Chapter PresidentTashanisha). The idea is to help children in the community cope with their issues by nurturing their interest in the arts. These workshops will teach them the fundamentals of theatre performance, script writing, and staging plays. Participants will engage in meaningful conversations with the Program Director to come up with ideas for scripts that are significant to their lives. At the end of the workshop, participants will demonstrate skills learned by casting, producing, and starring in original plays they helped write. NAPW Essex County, NJ members will also be featured in these plays. Each workshop will teach participants how to be classy, professional, productive leaders. Member Sheba Jordan is a successful Writer/Producer/Theatre Director. She has agreed to conduct the workshops for us. We will charge a nominal fee for the plays and the money we raise will go toward a Chapter-designated cause.
●House Parties (recommended by member Heather Small, Essex County, NJ Fundraiser Manager). House parties are becoming a more popular way to raise funds. They are cost effective and foster strong relationships. Heather recommended inviting members from the chosen organization to be present at the party and the money raised will be given to them before they leave the event.
During the meeting, Heather shared some of her knowledge concerning the do's and don't's of associating funds raised with NAPW. She recommended hosting workshops for each of our professions and inviting the public whenever acceptable under NAPW guidelines.
"Our fundraisers must match NAPW's mission as well as our own passion," said Heather.
The benefits of social networking were also discussed at the meeting. The Chapter President encouraged members to link their NAPW profile pages to the Essex County, NJ Chapter. Coretta Grant, Director of Communications for the Chapter, informed everyone in attendance about the Chapter's networking pages on Facebook, Twitter, Google, and LinkedIn.
"I encourage everyone to like our Facebook page and interact with us on all of our social networking sites," said Coretta.
Members were asked to email Corretta any pictures or other relevant content they feel should be posted on either of the Chapter's social sites (correttag(at)gmail(dot)com). Please be sure to cc Chapter President Tashanisha in all email messages (tashanisha(dot)murray(at)yahoo(dot)com).
Other meeting highlights included when member Robyn Cassidy (an expecting mom) was presented with a basket for her bundle of joy on behalf of the entire Chapter.
"Congratulations and best wishes to Robyn Cassidy and her family," said Tashanisha.
There was a beautiful display of cupcakes provided by Cuppiedy Cakes Owner, Freckles. The cupcakes were not only beautiful but also delicious!
Member Maria Afsharian remarked that workshops and raffles are a great idea and an opportunity to honor women in the community that have pulled themselves out of bad situations. She also recommended a strong mission statement and elevator speech be developed for the Chapter.
Corretta Grant encouraged members to get the word out to college students concerning funds available to them. She mentioned Graduate Assistantship that pays tuition and other fees. She indicated that many students would get a free education if they took the time to research scholarships and other programs available and maintained an adequate GPA so they are eligible to receive them.
Sheba Jordan commented that it is great to see so many women come together for a common goal. All agreed that what's important now is to see growth within the Essex County, NH Chapter.
"It's important that the Chapter demonstrates staying power by continuing to come together and helping each other achieve," said Chapter President Tashanisha.
In closing, Tashanisha reminded the group that everyone has a story to tell.
"We need to stick together and target people in the community to help tell their stories through plays, and music," said Tashanisha.
She indicated that many children in the community do not have much of a future because they are surrounded by people who do not care. NAPW Essex County, NJ Local Chapter cares and has a voice now and the power to help those in need.
"One woman can change anything. Many women can change everything," said the Chapter President.
It is a slogan that Tashanisha frequently uses and it did indeed set the tone for the evening.
The National Association of Professional Women (NAPW) is the largest and most recognized network of female professionals. NAPW provides a forum where women can interact, exchange ideas, educate, network, and empower. NAPW Local Chapters allow members to maximize their experience through meetings, networking opportunities, and professional events.
For additional information regarding the NAPW Essex County, NJ Local Chapter and/or NAPW, please visit http://www.napw.com.
Follow NAPW on Facebook and Twitter.
###