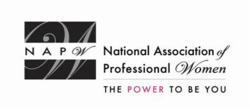 Leah's presentation was engaging and very positive. She made it clear that creating our own personal style is important because...
Garden City, NY (PRWEB) November 13, 2012
Members and guests of the NAPW Forest Hills, NY Local Chapter met for a professional networking meeting on October 24th at Biu Bella. While enjoying wonderful brick oven pizza, season salad, and a chicken platter, attendees embarked on a networking session. They then received expert tips from Leah Chase, Founder and President of Excelsior You, on how to transform themselves, and consequently, change the way they are seen by others.
Using her 20 years experience as a Personal Shopper and Coach, Leah expertly showed the women how they could create a look that is fashionable and comfortable by making simple yet significant wardrobe changes.
"Leah's presentation was engaging and very positive. She made it clear that creating our own personal style is important because how we see ourselves is how we present ourselves to the world," said Forest Hills Chapter President Anjali Chugh.
Leah began her presentation by asking members and guests if they knew what their personal style is (some did, some did not) and suggested that the women identify their 'signature style' and then get a little creative with it. She also noted that a person's signature style tends to change as she gets older.
Some notable fashion tips from Leah included:

Fashion is an attitude
Don't wear what isn't comfortable because t will quickly ruin you and your attitude
Create balance in what you wear
The Personal Shopper and Coach continued her presentation by highlighting the importance of handbags in defining your fashion statement.
"Heavy bags are detrimental to your heart and your posture. Large bags take away the glamour from your outfit, so lighten up your bags," she told the crowd. "Also, be conscious of where you are putting your bag."
Leah suggested that women use a table purse hanger as an alternative to the floor or lap for placing their handbag(s) while they are at the table. Next, Leah moved on to shoes.
"Shoes! Select your shoes with care," Leah said. She demonstrated the use of a shoe box and went on to say, "Select shoes that are comfortable. But then make sure you are caring for that investment. When storing your shoes consider shoe socks or nifty shoe boxes that can be stacked in your closet and are accessible and easy to view."
Leah handed out a flyer to each member that highlighted 'Ten Pocket Tips for Women on the Run' and encouraged members and guests to ask questions relating to those tips. Some of the interesting tips were: a signature piece can be a focal point (a scarf paired with a nice broach or pin for instance); try not to focus too much on size – look for pieces that can be used in different ways or for different occasions; recognize what body shape you have and don't dress to turn yourself into someone you are not; don't buy what a salesperson tells you to; make sure you have a good range of classics in your closet – black dress, herringbone or tweed jackets, etc.
"These items are 'multi-taskers' and can be worn in many ways. Additionally those same pieces can be updated with jewelry, a scarf, etc.," she told the audience.
"Leah demonstrated a number of fashion styles with the help of some wonderful women from our group," said Anjali. "The members that volunteered were Chineze Okafor, Cassandra Greene, and Karen Gerstman."
Members who attended the October Forest Hills, NY Local Chapter meeting were:
Wanda Philips, Owner Wanda Philips Signature Events;, Chinasa Okafor Ezeadichie, Accountant @ Nasa Accounting Services; Chineze Okafor, Accountant; Dartanya Straughn, Graphic Designer; Karen Booker, President Bebe Group; Ericka Williams, IT Specialist at FDA; Lyson Basile, Business Analyst; Karen Gerstman, Voice Actor; Gwyneth J. Anderson, President Anderson Research; Katherine Arnow, Interior Designer; Cassandra (Retired Assistant Director at SUNY Downstate); Shauna Saul, Program Admin at SUNY Downstate; and Anjali Chugh (Grief Counselor).
The Forest Hills, NY Local Chapter Newsletter was prepared by Gwyneth J. Anderson, President Anderson Research (Chairperson Communications & Networking Forest Hills Chapter).
The National Association of Professional Women (NAPW) is the largest and most recognized network of female professionals. NAPW provides a forum where women can interact, exchange ideas, educate, network, and empower. NAPW Local Chapters allow members to maximize their experience through meetings, networking opportunities, and professional events.
For additional information regarding the NAPW Forest Hills, NY Local Chapter and/or NAPW, please visit http://www.napw.com.
Follow NAPW on Facebook and Twitter.
###