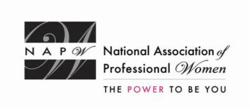 Garden City, NY (PRWEB) July 19, 2012
Members and guests of the NAPW Forest Hills Local Chapter gathered on July 11 for a women's networking event at Dee's Restaurant at 107-23 Metropolitan Avenue in Forest Hills. The meeting was the second successful networking event for the newly launched Chapter.
The guest speaker at July's meeting was new member Chermerdene Jordan who is an Independent Distributor of Reliv nutritional products. Before Chermerdene got started on her presentation, members and guests spent the first part of the evening getting to know one another; as they networked they also enjoyed the delicious cuisine at Dee's restaurant, a family-style Italian bistro.
NAPW Forest Hills Local Chapter President Anjali Chugh took a few moments to welcome the members and guests to the Chapter's second meeting. She then introduced Chermerdene Jordan as the guest speaker for the evening.
"Chermerdene's presentation was designed to showcase her business of marketing nutritional products, in addition to providing a business opportunity for other members," said Anjali.
"Chermerdene Jordan brought everyone's attention to issues that many of us struggle with in our daily lives, including our concerns about retirement, health, and financial security, the ability to spend quality time with our families, and the need to take control of our lives," said Anjali. "Ms. Jordan's presentation was compelling enough to arouse the interest of the attendees in Reliv nutritional products and they could see Reliv as a tremendous business opportunity that had the potential to change peoples' lives in the U.S. and around the world."
In a Q/A session, following the presentation, Chermerdene informed the members that the products, as per policy, are distributed by a network of independent distributors who've had life-changing results and are now making sure that others with health challenges reap the same benefits. She added that the Company's mission is to 'Nourish the World' and that the mission is accomplished through the dedicated efforts of distributors and the Kalogoris Foundation, feeding over 42,000 children around the world everyday with patented and balanced nutritional products.
Chermerdene put Bill Perrin on a conference call during the presentation and he shared his own experience with Reliv products. He told the members how 'Reliv' had changed his life and that of his wife's. The couple, after using Reliv products and experiencing great health benefits, joined the business and became independent distributors. Bill admitted that he and his wife are living a life that they could have imagined before joining Reliv.
Toward the end of the meeting, Anjali talked about her vision for the Forest Hills Local Chapter and encouraged members to get more involved by joining various committees that were formed during the launch meeting in June. The Forest Hills Local Chapter Board now constitutes the following committees and Chairpersons: Chremedene Jordan, Chair Communications, Silvia D'Avila, Chair Social Media, Aixa Cruz, Chair Event Planning, and Janice Rimler, Chair Fundraising.
Members and guests who attended the July meeting included Gwyneth J. Anderson, President, Anderson Research; Cassandra Greene, Assistant Director, Continuing Medical Education at SUNY Downstate Medical Center; Sylvia D'Avila, Owner, IZA By Silvia D'Avila jewelry; Karen Gerstman, Voice-Over Artist; Janice B. Rimler, CEO/Interpreter, Professional Sign Language Interpreters, LLC; Aixa Cruz, Secretary, New York City Housing Authority; Chermerdene Jordan and Sarah Smiklee, Independent Distributors, Reliv International; Linda Villa Passione, Violence Prevention Facilitator, United Federation of Teachers, and Anjali Chugh, Grief Counselor and Reiki Therapist.
The National Association of Professional Women (NAPW) is the largest and most recognized network of female professionals. NAPW provides a forum where women can interact, exchange ideas, educate, network, and empower. NAPW Local Chapters allow members to maximize their experience through meetings, networking opportunities, and professional events.
For additional information regarding the NAPW Forest Hills Local Chapter and/or NAPW please visit http://www.napw.com.
Follow NAPW on Facebook and Twitter.
###