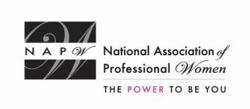 In her presentation, Janice made it clear that following one's passion is key to not only being successful but enjoying one's work, as well.
Garden City, NY (PRWEB) September 11, 2012
Members and guests of the NAPW Forest Hills Local Chapter gathered on August 21st for a professional networking meeting at the offices of All Hands in Motion Professional Sign Language Interpreters LLC, located in Parker Towers. At the meeting, member Janice Rimler,
President of All Hands in Motion, a communication services provider for the deaf community throughout the New York metropolitan area, was the guest speaker.
After welcoming members and guests to the monthly networking meeting, Forest Hills Chapter President Anjali Chugh introduced Janice to the audience. Janice spoke to the crowd about the successes she's experienced as well as the challenges she's faced since establishing her business in 2006. Janice's presentation was informative and relevant, filled with advice and tips about the ups and downs of owning a business, something many members and guests related to very well.
"In her presentation, Janice made it clear that following one's passion is key to not only being successful but enjoying one's work, as well," said Anjali.
Prior to establishing her firm, which today represents 65 interpreters, Janice was the Coordinator of Interpreter Services for NY City College of Technology. Currently, Janice is very active in the deaf community and is constantly creating events and opportunities for the deaf community to come together and get all the help they need.
Janice is a nationally Certified Sign Language Interpreter and nationally Certified American Sign
Language Instructor. All Hands in Motion represents the best interests of Deaf/Hard of Hearing people, the companies for which they work, the universities they attend, the doctor's visited, the everyday situations faced. Conversely, All Hands in Motion provides communication access for those hearing individuals who cannot directly communicate with their deaf colleague, patient, friend, student, or client. The professionals represented, including interpreters and transcribers, work in their respective teams on assignments that build experience, competency, and interest.
Involved in the New York City Deaf Community since 1981, socially and professionally, Janice has been an Executive Board member of New York Deaf Theatre, held several Board positions in the local chapter of the Registry of Interpreters for the Deaf (NYC METRO R.I.D.) including President, has served as a board member of the New York City chapter of American Sign Language Teachers Association, and has volunteered in other areas of the community.
Janice's presentation reinforced the idea that having the knowledge in the first place, and the skills to implement that 'know-how' in the work that one loves to do, is critical to establishing a successful and thriving business.
"These are the components that ultimately become the driving force for doing and enjoying the work one does every day," Janice told members and guests.
Toward the end of the meeting, President Anjali spoke about several issues that are critical to the successful development of NAPW Forest Hills Local Chapter. Chief among the concerns expressed was the need for proper meeting space that provides an ample space for members to attend comfortably and is conducive to a professional meeting. Second, there was a discussion about future Forest Hills Local Chapter meeting topics and the expectations that Chapter members have from NAPW, and the help they need as they continue to strive for achieving their professional goals. Anjali also brought to the attention of the attending members, the areas of support available for members within the group.
"NAPW, apart from being a professional networking organization, can also be a resource for personal support for those who need it," said Anjali.
The President also announced that the next meeting would be held in collaboration with the NAPW Jamaica Local Chapter and members could look forward to interacting with a larger networking group. The idea was greatly appreciated by all members and guests.
Attendees at the August 21st networking meeting were: Janice Rimler, Owner -All Hands in Motion Professional Sign Language Interpreters LLC; Shauna Saul, Program Admin SUNY Downstate; Silvia D'Avila, Owner- Iza by Silvia D'Avila; Angelique E. Brown, (Math Teacher at PS 164; Catherine Arnow, Interior decorator; Karen Gerstman, Voice Actor; Lyson Basile, Project Manager and Business Analyst; Kaleena Ma, Co-owner MK Vision Center; Gwyneth J. Anderson, NAPW Forest Hills Chapter Co-Chair Communications & Networking and President of Anderson Research; and Anjali Chugh, President of NAPW Forest Hills Local Chapter and Grief Counselor & Energy Healer.
The National Association of Professional Women (NAPW) is the largest and most recognized network of female professionals. NAPW provides a forum where women can interact, exchange ideas, educate, network, and empower. NAPW Local Chapters allow members to maximize their experience through meetings, networking opportunities, and professional events.
For additional information regarding the NAPW Forest Hills Local Chapter and/or [NAPW, please visit http://www.napw.com.
Follow NAPW on Facebook and Twitter.
###