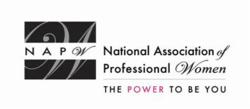 We were so grateful for the helpful tips on how to effectively manage business finances...
Garden City, NY (PRWEB) August 08, 2012
NAPW Fresno Chapter met for a networking event on July 18th at Dicicco's Italian Restaurant, 5451 N Blackstone, Fresno, CA 93711 for a lunch meeting. Carla D. Flores, Fresno Chapter President kicked off the meeting by welcoming the nine attendees, which consisted of six members and three guests. Notebooks, pins, and post-it notes were given to members who were not present for the June meeting. NAPW membership brochures were handed out to the non-members in attendance. Carla had instructed all attendees to place any brochures and/or business cards on a centrally located table for other members to access.
Members that were in attendance were Ann Gibson, Nightingale Travel Nurse; Karen C Vargas, President of Karen C Vargas, CPA; Cindy Leddicotte, Managing Consultant with Small Business Advisory Group, Inc; Nicki M. Passeggi, Director of Sales, Hampton Inn & Suites Fresno, Alicia L Hinton J.D., M.A, CEO of Lavender's Light, LLC, and Chapter President Carla D Flores, Owner of TLComfort CARE & Consulting, Inc (homecare), Owner of TLC Comfort CARE Home & Independent Consultant of PURE Now.
In addition, members brought guests to the meeting, including Jennifer Provencio, Legal Shield & Small Biz.com Representative, Heather Rodriguez, Owner of CFS CPR/First Aid, HR Director of TLComfort CARE & Consulting, Inc & Site Administrator of TLC Comfort CARE Home, and Carol Silva Andrews, Owner of Brides by Carol & Co.
After the members and guests in attendance had an opportunity to introduce themselves, Carla felt it important to review some of the benefits of membership, and also get a better understanding of what brought everyone to NAPW. Carla read, "The National Association of Professional Women (NAPW) is an exclusive network for professional women to interact, exchange ideas, educate, and empower. NAPW members enjoy a wealth of resources, benefits, and services dedicated to enhancing their lives and promoting their businesses and careers. NAPW provides seminars, podcasts, webinars, keynote speakers, and educational tools, fostering critical skills that enable our members to achieve personal and career success. Through our wide-reaching network, members discover new opportunities to connect, grow, learn, and inspire. We provide an exclusive online platform to showcase their businesses and gain exposure for professional endeavors. NAPW also supports and endorses a diverse syndicate of charities and nonprofit organizations focused on women's issues and child wellness."
Carla asked the members how long each had been a member of NAPW and what they hope to gain from the Fresno Chapter. The membership length ranged from 3 weeks to 1 year and 2 months; all agreed that they were thrilled to have a local Chapter in Fresno. Most of the women belong to other networking groups but expressed that being a part of NAPW Fresno Chapter would bring a new dimension to their lives and businesses. They are also impressed with all that NAPW has to offer. Carla then recommended that each woman explore the website at length for a deeper understanding of all NAPW benefits. "We all voiced excitement of meeting other professional women, forming friendships, and building a strong network," she reflected.
Next, Carla introduced guest speaker, Anthony Bea, who is the Branch Manager at Tri Counties Bank in Fresno, CA. He spoke on financial management for personal and business owners and addressed the economic effect on businesses, stressing the need for small business owners to own Quickbooks, and to find their brand.
"We were so grateful for the helpful tips on how to effectively manage business finances. Anthony offered his consulting services for free and if anyone was interested in opening an account with Tri Counties he could help them, but with no obligation," said Carla. "We had 10 minutes of good Q & A time."
After everyone asked their questions, the group moved on to discuss suggestions for upcoming meetings. They all agreed that it was going to be critical to meet at a new venue each month in an effort to support a variety of local businesses, and enjoy different kinds of meals, all while building more exposure of NAPW to the community.
Because members were so impressed by the guest speaker at July's meeting, they decided it would be advantageous to continue to bring in guest speakers at upcoming meetings. After brainstorming potential topics, the group decided that they wanted to next speaker to be a legal resource. Members Alicia Hinton and Nicki Passeggi volunteered to reach out to their contacts.
At the end of the event, everyone mingled, exchanged business cards, phone numbers, email addresses, and brochures. Several of the women thanked Anthony again on his presentation and met with him after the meeting.
The next scheduled meetings are to be held on August 15, September 19, Oct 17, and tentatively Nov 21, Dec 19. Carla instructed members to check the Chapter page regularly for updates on upcoming events.
The National Association of Professional Women (NAPW) is the largest and most recognized network of female professionals. NAPW provides a forum where women can interact, exchange ideas, educate, network, and empower. NAPW Local Chapters allow members to maximize their experience through meetings, networking opportunities, and professional events.
For additional information regarding the NAPW Fresno, CA Local Chapter and/or NAPW, please visit http://www.napw.com.
Follow NAPW on Facebook and Twitter.
###