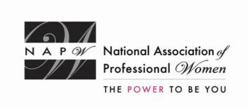 We all voiced excitement of meeting other professional women, forming friendships, and building a strong network
Garden City, NY (PRWEB) August 30, 2012
Members and guests of the NAPW Fresno Local Chapter gathered on August 15th for a professional networking meeting at Dicicco's Italian Restaurant, 5251 N. Blackstone Avenue in Fresno, which will be the permanent venue for all Fresno Chapter meetings in 2012 until further notice. The Chapter hosted guest speaker Jennifer Provencio from LegalShield who shared her personal story about why prepaid legal service makes sense for both business owners and individuals. In addition to the eight Chapter members, Chapter President Carla D. Flores also welcomed eight guests to the August networking meeting.
A number of the guests expressed their desire to become official members of the NAPW Fresno Local Chapter and Carla encouraged the other guests to take a look at the NAPW website to become familiar with all the organization has to offer. All of the members extolled the benefits they have enjoyed since joining NAPW. Many of the existing members and guests were thrilled to be there for the first time and expressed how they have been looking for a group such as NAPW.
"We all voiced excitement of meeting other professional women, forming friendships, and building a strong network," said Carla.
NAPW Fresno Chapter member Ann Gibson shared with the crowd the official benefits, mission, and brand promise of NAPW and read statements about each to the group.
Next, guest speaker Jennifer Provencio took the floor. Jennifer is a representative from LegalShield, a company that offers legal expense plans, or memberships that offer a variety of legal services for a low, monthly fee. Jennifer shared her personal story and told the crowd how she learned first-hand the importance of having prepaid legal services. She explained how she and her husband had three franchises, two of which ended up in bankruptcy, and faced a lawsuit of over $1 million.
"What my husband and I learned from this experience was that having access to legal services could have prevented the failure of these businesses," she told the crowd.
Jennifer then shared with members and guests specifics about LegalShield, the legal services it provides, and the quality of the local attorneys involved with the organization. A number of the women present confirmed Jennifer's presentation and shared how having a prepaid legal service saved them thousands of dollars and much stress.
Members and guests also had the opportunity to win some exciting prizes at the August meeting. There was a business card drawing for members who brought guests and for the new guests. Fresno Chapter member Cindy Leddicotte, who brought three guests, was the lucky winner of a free lunch to be provided by NAPW next month. Guest Heather Rodriguez also was a winner.
Corina Lopez, Founder of Blush & Bullets, a company that educates women in the proper use and handling of firearms for self-protection and recreational enjoyment, donated a one-year membership, which is worth $60. Member Natasha UhlikSlebiss was thrilled when her name was called as the winner. Natasha shared that she had a friend who was recently a victim of rape and now is taking a self-defense class due to her friend's experience.
It was announced that Blush & Bullets will be generously donating a $200 gift basket to be raffled at the September Chapter meeting. The basked will include Mace, pepper spray, a taser, and two one-year memberships. Raffle tickets will be sold at $1 each, six for $5, or 12 for $10. Proceeds will be donated to a local victim advocacy group to be determined by the members and guests at the meeting.
Before Fresno Chapter President Carla D. Flores concluded the meeting, there was plenty of time for all present to network. Members and guests mingled, exchanged business cards, phone numbers, email addresses, and brochures.
"Several of the women scheduled one-on-one appointments and fireside chats with two or more women. Although the meeting was adjourned at 1:05pm, most women were still networking at 1:30pm," said Carla.
Upcoming Fresno Chapter meeting dates are September 19th, October 17th, November 21st, and December 19th. (November and December dates may be adjusted due to holidays.) All meetings will be held at Dicicco's Italian Restaurant until further notice.
Members present at the August 15th meeting were: Ann Gibson, Nightingale Travel Nurse; Karen C. Vargas, President of Karen C. Vargas, CPA; Cindy Leddicotte, Managing Consultant with Small Business Advisory Group, Inc.; Alicia L. Hinton J.D., M.A, CEO of Lavender's Light, LLC; Malinda Wintemute, Owner/Certified Permanent Cosmetic Professional - Eternal Beauty Skin Care @ Illuminate Hair Studio and Spa; Natasha UhlikSlebiss , Registered Dietitian - New Day Health Coach, and NAPW Fresno Chapter President Carla D Flores, Owner of TLComfort CARE & Consulting, Inc. (homecare), Owner of TLC Comfort CARE Home and Independent Consultant of PURE Now.
Guests present were: Jennifer Provencio, Legal Shield & Small Biz.com Representative; guest of Carla D. Flores: Heather Rodriguez, Owner of CFS CPR/First Aid, HR Director of TLComfort CARE & Consulting, Inc. and Site Administrator of TLC Comfort CARE Home; guest of Jennifer Provencio: Carol Silva Andrews, Owner of Brides by Carol & Co.;Guest of Carla D Flores: Soraida Lewis- Admitting Specialist III @ Madera Community Hospital with daughter Senaya Lewis; guests of Cindy Leddicotte: Marie Ferriera, Representative for SendOutCards; Nancy Anderson, Sales Director of The Windham; and Rose Rager, Executive Director of The Windham.
The National Association of Professional Women (NAPW) is the largest and most recognized network of female professionals. NAPW provides a forum where women can interact, exchange ideas, educate, network, and empower. NAPW Local Chapters allow members to maximize their experience through meetings, networking opportunities, and professional events.
For additional information regarding the NAPW Fresno Local Chapter and/or NAPW, please visit http://www.napw.com.
Follow NAPW on Facebook and Twitter.
###