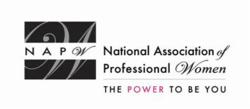 We implemented a Board of Directors consisting of the Officers of the Group
Garden City, NY (PRWEB) March 28, 2012
The NAPW Honolulu Local Chapter met for a professional networking meeting on February 17th. Leslie Lewis, Chapter President, opened the meeting by welcoming everyone. The members in attendance were Laura Lund, Cheryl Adachi, and Bonnie Prebula. They have been consistently attending meetings. The meeting was held at the Pacific Center for Advanced Technology Training, located on the Honolulu Community College main campus.
NAPW Honolulu Chapter meets every third Friday for a brown bag lunch meeting at noon. The meeting was held in discussion format regarding business, structure, and purpose of the NAPW Honolulu Chapter. Group decided to not focus on outside charitable groups at this time and to focus on growing their own membership and network.
"To facilitate growing the local membership, we will maintain a list of members with phone numbers and emails to be distributed among members," said Leslie. Laura Lund became the Chapter's Vice President and a decision to have a Board of Directors was made. The Board of Directors will consist of the Officers of the Group including President, Vice President, Secretary, and Treasurer. At this time the group does not have a permanent Secretary and does not have the need for a Treasurer, but will reserve the right to appoint one at a later time. A challenge was issued to the group to bring a guest to the next meeting.
The Main Campus of Honolulu Community College, a short distance from the heart of downtown Honolulu, occupies over twenty acres on Dillingham Boulevard in the Kalihi-Palama area. The College also has facilities near Honolulu International Airport for the Aeronautics Maintenance and Commercial Aviation programs, automotive and heavy equipment shops on Kokea Street, and the Marine Education and Training Center at Sand Island. Honolulu Community College is a member of the American Association of Community Colleges and the Western Association of Schools and Colleges. Honolulu Community College has been continuously and fully accredited since 1970 by the Accrediting Commission for Community and Junior Colleges, Western Association of Schools and Colleges. NAPW Honolulu Chapter is very appreciative to PCATT for their generosity in allowing us the use of their conference room at no charge.
A group picture was taken with members in attendance.
The National Association of Professional Women (NAPW) is the largest and most recognized network of female professionals. NAPW provides a forum where women can interact, exchange ideas, educate, network, and empower. NAPW Local Chapters allow members to maximize their experience through meetings, networking opportunities, and professional events.
For additional information regarding the NAPW Honolulu Local Chapter and/or [NAPW please visit http://www.napw.com.