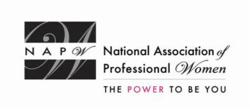 This was our first financial workshop and Chiffon Abney was bona fide successful...She is a dedicated Licensed Regional Finance Manager using her expertise to help individuals...
Garden City, NY (PRWEB) October 19, 2012
Members and guests of the NAPW Hudson County, NJ Local Chapter gathered on September 28th for a professional networking meeting. Chapter President La-Trenda Ross welcomed all to the meeting that began with an introduction of members and guests. The Attendees had plenty of time to network and enjoy three large pizzas ($18.95 each), refreshments, and beverages brought by members. The meeting's guest speaker was Licensed Regional Finance Manager Chiffon Abbey, who shared expert advice in her presentation, 'Think Like a Lady; Get Your Money Like a Man.'
"This was our first financial workshop and Chiffon Abney was bona fide successful," said Hudson County Local Chapter President La-Trenda. "She is a dedicated Licensed Regional Finance Manager using her expertise to help individuals, families, and businesses with financial planning."
In her informative presentation, Mrs. Abney forecasted a motivational representation that demonstrated to members and guests thoughts about financial planning that started with numbers, investments, and pie charts. This comprehensive, ongoing approach starts with helping a person define her dreams, developing a plan to help get there, then tracking her progress along the way and recommending life changes as needed.
"I would like to see more women develop a sense of urgency when it comes to investing for their short- and long-term objectives. We have to approach money matters with the same level of intensity that we approach caring for our loved ones," said Mrs. Abney. "Who told women they didn't deserve to be served? We must learn how to serve ourselves through education, faith, and action."
La-Trenda added that she highly recommends Mrs. Abney to those members and guests who need to sit down with someone who is a financial planner and who can help get a person from being under a mess and start saving and investing.
"Chiffon is the person," the Chapter President said. "I am grateful to her for taking the time out to help several NAPW members including myself."
Mrs. Abney may be reached at 646-932-9496 for home visits or at the office in Edison, NJ or her Brooklyn, NY office-Chiffon Abney; Regional Leader PFS, or via email at cabney(dot)yhs75(at)primerica(dot)com
"It will not cost you anything to ask her questions," said La-Trenda. "This is our time, ladies, to get our money. I want, when the time comes to retire, to be sitting down at the beach drinking lots of piňa coladas with lots of money!"
At the conclusion of the financial workshop, the Chapter President discussed Chapter business and reminded everyone that the minutes from the previous Chapter meeting were uploaded and ready to read on the NAPW website. She praised the job NAPW did gathering the chapter minutes into a press release. La-Trenda also announced two Chapter Board positions are available including Vice President Event Planner and Secretary. Members said they would like to receive descriptions of the positions via email. Membership in the Chapter has been growing and it is important to fill these key positions.
"The Hudson County Local Chapter is growing strong with 48 members to date!" said the President.
The change in date for the Spa/Makeover Day was brought up and it was announced that the event has moved from October 24th to November 10th. Planning for the event is underway and Crew Hair Studio is excited to be collaborating with the Chapter to ensure it is a huge success.
On a more personal note, La-Trenda thanked everyone for the outpouring of sympathy, thoughts, and cards they have showered upon her since the tragic loss of her brother a couple of weeks ago.
"My members and guests are a beacon of love and goodness," she said.
There was also plenty to celebrate at the meeting, and as always, the Hudson County Local Chapter had plenty of good and exhilarating news. Wishing both Valerie Frink and Aja Pacheco a happy belated birthday, members and guests wrote their birthday wishes on cards for them. It was also announced that the Chapter President had recently started working for the County of Hudson as a Senior Community Relations Aide and Glenda Salley was nominated as NAPW VIP of the Year. Lastly, Angela McKnight and Glenda Sally were the lucky winners of $10 CVS gift cards.
The National Association of Professional Women (NAPW) is the largest and most recognized network of female professionals. NAPW provides a forum where women can interact, exchange ideas, educate, network, and empower. NAPW Local Chapters allow members to maximize their experience through meetings, networking opportunities, and professional events.
For additional information regarding the NAPW Hudson County Local Chapter and/or NAPW, please visit http://www.napw.com.
Follow NAPW on Facebook and Twitter.
###