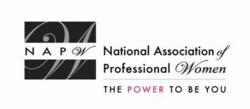 I think the Chapter would benefit from focusing efforts on learning more about women's issues, such as the overall health through workshops and participating and/or sponsoring 5k Runs and Health Fairs
Garden City, NY (PRWEB) May 17, 2012
The NAPW Hudson County Local Chapter met for a productive professional networking meeting, which the group called "The Committed Effort".
The meeting formally began with an introduction by La-Trenda Ross, Hudson County Local Chapter President, who explained the benefits of NAPW and their purpose within the Hudson County area. She told the group that there was potential to grow individual networks with others with versatile professions. A discussion about promoting and encouraging members equally were just some of the highlights of the Hudson County Chapter's introduction. The attendees for this month's meeting were La-Trenda Ross and Gervasia Archer,Arlene Pacheco, Betty Rentas, Tiffany Turner, and Jeanie Adarraga were new guests in attendance.
La-Trenda discussed the results of a survey done by the Chapter and its members and it was decided to participate in their first community event aimed for June. Chapter board members were selected and members and guests shared community resources and upcoming events within Hudson County.
"Based on the results from the survey, I think the Chapter would benefit from focusing efforts on learning more about women's issues, such as the overall health through workshops and participating and/or sponsoring 5k Runs and Health Fairs," La-Trenda.
Women's empowerment workshops and youth empowerment workshops were also popular answers from the survey; an event supporting young women such as a career day was also mentioned. For NAPW members, Women's Health was one of the top responses to the survey. Members are looking forward to workshops on healthy eating habits and the pros and cons of high blood pressure. They would like to participate in neighborhood clean ups and workshops on entrepreneurial skills, and the use of social media. Members look forward to donating gently used clothing to victims of the recent Jersey City fire.
Based on the results of the survey, NAPW members decided that their first community event should be a Women's Empowerment Brunch to be held on June 16th, from 11am-1pm. By the Chapter's next meeting, they plan to have a venue, as well as donation commitments for food, such as bagels, pastries, and fruit from local businesses and prominent persons.
We are also going to be looking for a keynote speaker for the event and four women within Hudson County who have made a positive impact in the community to be recipients of an award. Prospective member, Tiffany Turner, offered to make initial contact with a potential keynote speaker and La-Trenda intends to follow-up with a letter. For this event, we plan to reach out to other nearby NAPW chapters such as the Essex County Local Chapter to attend this event. This will be a great opportunity for networking and collaborating with other Chapters for future events. Members will email La-Trenda regarding any other ideas for the Chapter's first Women's Empowerment Brunch.
La-Trenda discussed how they should plan the event and responsibilities of the officer positions. Next was the selection of board members. Gervasia Archer volunteered as Vice President and Secretary, Arlene Pacheco took the Social Chair role, and Betty Rentas stepped into the position of Hospitality/Outreach Officer. La-Trenda relayed that the Vice President of Events and Photographer/Media Relations position is still open and any interested member is welcome to take on the role.
Special announcements were made regarding upcoming events. Some of the community events mentioned included "A Home of Her Own: Women's Housing Initiative" event for First-Time Home Buyers to be held on Saturday, April 28th, from 2pm-4pm at the NJ Institute of Technology, 150 Bleecker Street Campus Center 2nd Floor, Newark, NJ 07102. The number to RSVP to this event is (973) 643-8800 ext. 218. The Community Networking Association Brunch is to be held on May 16th, from 10am-12pm at The Bergenview, 645Bergen Avenue, Jersey City 07306 and "Court Night": Free Legal Workshops will be held on May 10th. Session 1 of this event starts at 5:30pm-7:15pm and Session 2 starts at 7:30pm-9:15pm at the Rutunda of the Justice William Jr. Brennan Jr. Courthouse, 583 Newark Ave. Jersey City. To RSVP one can email Hudson.Reservation@Judicuary.State.NJ.US or call Cari Ann Gingerelli (201) 217-5109.
Gervasia mentioned her Youth Partnership called Advocates Against Mental Health Stigmas Open-Mic Audition Event for Youth Ages 13-21 to be held on April 23rd and 24th, from 5pm-7pm at NJA FSO 895 Bergen Avenue Suite 300, Jersey City, NJ 07306. She relayed information for the Healthy Bodies, Healthy Minds Walk Talent Showcase held on May 5th, for Children's Mental Health Awareness Week.
Tiffany Turner of Children, Women, and Talents also shared her Self-Esteem Workshop for youth ages 10-16 on May 25 from 4:30 to 7:00pm at the Jersey City Public Library at 489 Bergen Avenue, Jersey City, NJ.
La-Trenda relayed that the next meeting is to be held on May 11th and Alfa Delamesh, CEO of Rising Tide Capital will be the guest speaker. The Chapter's discussion will be on "Committing to Your Goals."
La-Trenda announced the month's raffle winners. Betty Rentas won a stationary package and Arlene Pacheco won a beautiful vase.
The National Association of Professional Women (NAPW) is the largest and most recognized network of female professionals. NAPW provides a forum where women can interact, exchange ideas, educate, network, and empower. NAPW Local Chapters allow members to maximize their experience through meetings, networking opportunities, and professional events.
For additional information regarding the NAPW Hudson County Local Chapter and/or [NAPW please visit http://www.napw.com.
Follow NAPW on Facebook and Twitter.
###