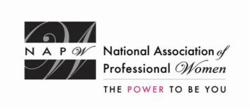 NAPW Indianapolis is proud to partner with DFS Indy to help them accomplish their goals and we now have dates for the Suit Drive
Garden City, NY (PRWEB) February 14, 2012
The Indianapolis NAPW Chapter gathered at Daddy's Real's – The Place for dinner and a little entertainment to celebrate the very full year of giving in 2011. Attendees at the professional networking meeting included current members Sally Esbaum, Nita Conaway, Tammie Fish, Jaye Miller, Donna Panich, Andrea Ciobanu, Ellyn Traub, Shelley Coughlin, Jennifer Chappell, and Lynn Moore.
The Indianapolis Chapter was responsible for raising over $1,000 for two families of the Dayspring Center's Adopt- A-Family program. 'Thank You' notes from the families were shared with the group.
"Nice job ladies and thank you for your generosity," said Lynn. "On behalf of the chapter, we'd like to extend many thanks to Nita Conaway, Mikki Post, Bridget McDaniel, and others, who shopped and wrapped the items for the families."
Dress for Success Indianapolis has invited the group to participate again in 2012 as professional partners of their Professional Women's Group. The December presentations and dinner was well received and the goody bags sent were a nice surprise at Christmas time.
"NAPW Indianapolis is proud to partner with DFS Indy to help them accomplish their goals and we now have dates for the Suit Drive," said Lynn. "We'll discuss the Stepping Out in Style Show soon."
2012 will be a year to Learn for NAPW Indy Chapter. The NAPW members shared ideas of what they personally would like to learn in 2012. The list included: zip line, jazz guitar, ballroom dancing, piano, foreign languages, Zumba, sky diving, shooting a gun, Route 66 photography, and pole dancing. "Sounds like we have quite a challenge ahead in 2012," Lynn said.
Upcoming topics and locations include the meeting on March 1st, 2012 on Assessments in the workplace at a location to be determined. There will be a gift card drawing and members were encouraged to bring a friend. April 3, 2012 will be Zumba and DFS Suit Drive. September 2012 will be the Dress for Success Stepping Out in Style Show with Sally Esbaum, and November 1st, 2012 will start the chapter's Adopt-A-Family Donations.
Members were reminded, "If you have an idea to add, please email Lynn at mooreinnovative(at)att(dot)net and we will add it to our list. Once we have the details we can plug the topic into the date and secure an event location around Indianapolis."
Ideas for future meetings currently include a "Soup's On!" fundraiser by Melisa Trisler and a "Wine and Canvas" event by Lynn Moore. Jaye Miller will explore a Harmony Wine/Wine Making event. Vickie Proksch will look into sponsoring Danny's Closet, which is the male version of DFS. Mikki Post will look into Purchased Event and inviting other women. Carol Coots and Mary Ann Heck hope to prepare a meeting on "Planning for your Parent's Future". Several members have inquired about topics involving healthy lifestyle and fitness such as Zumba, kickboxing, and belly dancing. The Chapter intends to host speaker Brian Kavicky of Lushin & Associates or Dana from Fort Wayne.
Second Helpings Pasta/Rice Collection of packaged plain, pasta, rice, and more will be collected in March. Dayspring Center personal care items including full size products can also be donated in March.
Important partnership events to note include the Washington Park Community Life Center - Illuminate fundraising dinner in support of Purchased on March 16th at 6:30pm. Members and non members may donate on their website at http://purchased.org/.
Dress for Success 'Send One Suit' will take place from April 16th through the 20th. NAPW members will collect suits at the April 3rd meeting!
Prospective members will be invited to participate in up to two meetings prior to requiring a membership commitment to continue their participation. Members who would like to bring a guest may do so by their confirmation when they RSVP. All new member information will be sent to NAPW Chapter Contact Cindy Burns for follow up. There are no local chapter fees. Chapter members will be responsible for their meal expense and a portion of the cost for special events, speakers, etc.
The National Association of Professional Women (NAPW) is the largest and most recognized network of female professionals. NAPW provides a forum where women can interact, exchange ideas, educate, network, and empower. NAPW Local Chapters allow members to maximize their experience through meetings, networking opportunities, and professional events.
For additional information regarding the NAPW Indianapolis Local Chapter and/or NAPW please visit http://www.napw.com.
Follow NAPW on Facebook and Twitter.
###