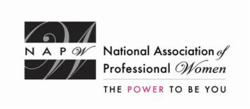 "We encouraged active members to share what each one would like to get out of our networking organization," said Lynn.
Garden City, NY (PRWEB) March 21, 2012
The NAPW Indianapolis Local Chapter met for a networking meeting in February at Romano's Macaroni Grill and enjoyed a networking dinner while contributing a pasta and rice donation to Second Helpings of Indianapolis. The NAPW members also shared what they would like to get out of NAPW as a networking organization and found several new ways to work together as partners in the workforce.
Attendees included current members: Sally Esbaum, Vickie Proksch, Mercedes Soria-Li, Bridgette McDaniel, Karen Henderson and Lynn Moore, Chapter President.
Members brought pasta, rice, and canned tomatoes as part of their efforts to support Second Helpings of Indianapolis, a local organization with a mission to Transform Lives Through the Power of Food. NAPW members donated 30 pounds of rice, 30 pounds of pasta, 26 pounds of canned tomatoes, and made a $100 donation.
"Indianapolis hosted the Super Bowl this year and more than 40,000 pounds of food were rescued from the event around the city," said Lynn. "Second Helpings is using this to feed the hungry children and adults and fight poverty in Indianapolis."
Lynn mentioned her upcoming meeting agenda as the dinner came to a close. Her members will participate in a gathering of the suits, and NAPW members will invite coworkers and colleagues to send one suit for Dress for Success. Lynn is very enthusiastic about her next meeting.
She thanked all who helped to accomplish these enormous tasks.
The National Association of Professional Women (NAPW) is the largest and most recognized network of female professionals. NAPW provides a forum where women can interact, exchange ideas, educate, network, and empower. NAPW Local Chapters allow members to maximize their experience through meetings, networking opportunities, and professional events.
For additional information regarding the NAPW Indianapolis Local Chapter and/or NAPW please visit http://www.napw.com.
Follow NAPW on Facebook and Twitter.
###