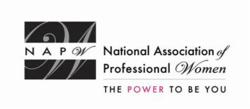 We will discuss important insights for the Sandwich Generation and learn about caring for parents, partners, and prodigies.
Garden City, NY (PRWEB) July 05, 2012
The professional women of the NAPW Indianapolis Local Chapter met on June 6th at 6:30pm at Bravo! Italian Cucina on 86th and Towne Road for a networking meeting.
"We will discuss important insights for the Sandwich Generation and learn about caring for parents, partners and prodigies," said Lynn Moore, Indianapolis Chapter President. Panelists included NAPW Member Sharon Todd; Todd Academy, Inc., Jane A. Malkoff, MSN, RN, NP; Clarity with Jane Malkoff, LLC, NAPW Member Carol Coots, CPC, CPC-H; Practical Cost Reduction, and NAPW Member Bridget M. McDaniel, Esq.; Williams Barrett & Wilkowski, LLP.
The Chapter discussed children and the challenges of meeting their needs: gifted, physically, or mentally challenged, and more. They received input on meeting their partners' and significant others' needs, both physically and emotionally, and on providing marital support to meet financial and emotional demands. The group also talked about caring for aging parents and elderly family members that include emotional supports, appropriate paperwork, wills, Power of Attorney, and more.
Panelist Sharon Todd is the Founder and current Executive Director of Todd Academy, Inc. a small private school in downtown Indianapolis specializing in gifted education. Sharon Todd holds Bachelor degrees in Political Science and English from the University of Colorado, and is a certified Private School Administrator. Sharon has held licenses as an insurance agent and a stockbroker series 7 license as well. She has additional training as a charter financial planner, human resources professional, and is the Founder and Executive Director of Todd Academy, Inc., established 2002. Sharon uses her many varied talents daily at Todd Academy, Inc., and attends regular webinars, professional development seminars and conferences, and certification courses in education, curriculum, and gifted education as a specialty.
Sharon provided the group with three things to remember about gifted children: 1. Kids at either end of the spectrum are at risk and could be a fit for gifted programs; 2. Prodigies are a lot of work and need the challenge of like-minded peers; 3. Do Something. If a gifted student is left to their own devices, it can be detrimental to their success.
Panelist Jane A. Malkoff earned her Bachelor Degree in Nursing from Ball State University and her Master Degree in Adult Health from Indiana University. She obtained her Nurse Practitioner License in 1994. With 25 years of experience in health care, she has worked in multiple care settings in order to expand her knowledge base to best serve her clients. Jane has expertise with such issues as health care crisis management, health and wellness, care in the home, caregiver role and stress, selecting appropriate nursing facility, medical care advocacy, nursing home advocacy, and more. Jane has been a "hands on" elder advocate for 25 years. She founded her company Clarity in 2006 to focus solely on Care Consultant and Management. Jane provides on-site assessments and comprehensive care management strategies for Central Indiana residents as well as surrounding areas and will serve as consultant to those in need of her services outside of her immediate physical location via phone or web.
She provided the group with three key takeaways: 1. Care about the whole person – avoid making the loved-one a medical case; 2. Plan what to do and when to do it. Use mediators with family to avoid conflict and hurt feelings; 3. Respect the role of the caregiver and make sure they take at least 8 uninterrupted hours to renew themselves. Use your connections and community and take advantage of the support that's out there.
Panelist Carol Coots has an extensive healthcare background. She has a degree in biology with an emphasis in advanced genetics and has worked in the Medical Coding and Auditing arena for over 20 years. She started Medical Bill Rescue when her mom was having trouble understanding Medicare. She has been asked by family, friends, co-workers, church groups, and individuals to help with understanding medical bills of a sick loved one. Her major accomplishments are numerous and include: medical accounts consultant, instructor, and author. See her Cost Saving Book at http://tiny.cc/2qhlq.
Carol advised the group to plan when well. "Don't wait until it's too late or leave it to others as it causes turmoil for all," she said. She also encouraged members to talk about what they want to do with the "stuff." Gather everyone to discuss as a group – use mediators. She warned about fraud and suggested members watch bills closely and seek expertise that will help avoid problems and help save money.
Bridget M. McDaniel was born in Indianapolis and attended Indiana University Purdue University Indianapolis, graduating in 2005, holding Bachelor degrees in Political Science and Philosophy and received her legal education from Indiana University School of Law at Indianapolis, graduating in 2009, J.D. She was admitted to the Indiana bar in 2009, and is admitted to practice before the United States District Courts for the Northern and Southern Districts of Indiana. She practices primarily in the areas of Wills and Trusts, Corporate Law, Business Transactions, Contracts, Real Estate, and Estate and Business Succession Planning.
Bridget is a member of the American Bar Association (Business Law Section), Indiana State Bar Association (Probate, Trust and Real Property Section, Young Lawyers Section), Johnson County Bar Association and Indianapolis Bar Association, as well as Phi Delta Phi Legal Fraternity and the National Association of Professional Women. She is actively involved in her community through the Greenwood Chamber of Commerce, On the Rise, and various other volunteer and community service projects.
Bridget reminded members to prepare their Advanced Directives: Both financial and healthcare Power of Attorney (POA); she advised that Living Wills are necessary and should be done now – regardless of age or health as they can always be revised. She mentioned that Living Wills can also include a Memorandum of Personal Property to allow specific details on the inheritance choices of the deceased.
Following each panelist's input, the Chapter discussed upcoming events including the Dayspring Center on June 16, 2012 for the Mini Golf Classic. "Members who would like to donate to a corporate sponsorship are welcome to send a check made out to Dayspring Center toward the NAPW Chapter Sponsor of $500," said Lynn. "If you can send $25 we will add it to the $100 we have already raised."
NAPW Indy is working with PNC as the Dress for Success Steppin' Out In Style event underwriting and coordinating a corporate sponsorship with NAPW National and the Indianapolis NAPW members.
Upcoming meetings will take place July 10 - Location and Topic to be announced… stay tuned; August 2 - Selling Yourself Without Selling Out, Dana Samardzich @ Second Helpings; September 14 - DFS Stepping Out in Style Event at the JW Marriott; October 2 - Professional Women's Group Dinner and Presentation @ Dress for Success; November 1 - Soup's On Fundraiser Co-Planned by Mikki and Melissa; and December 5 - Reclaim Your Time and Reconnect with Yourself, Dana Samardzich.
Members in attendance included Carol Coots and guests Diana and Jennifer, Jane Malkoff and guest Sharon, Bridget McDaniel, Sharon Todd and guest Sydney, Pamela Brown, Vickie Proksch, Sally Esbaum, Dona Lackman, Andrea Ciobanu , Mikki Post, Shelley Coughlin, Nita Conaway, Tammie Fish, and Lynn Moore.
The National Association of Professional Women (NAPW) is the largest and most recognized network of female professionals. NAPW provides a forum where women can interact, exchange ideas, educate, network, and empower. NAPW Local Chapters allow members to maximize their experience through meetings, networking opportunities, and professional events.
For additional information regarding the NAPW Indianapolis Local Chapter and/or NAPW please visit http://www.napw.com.
Follow NAPW on Facebook and Twitter.
###