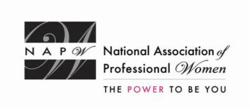 NAPW National will match $3,000 if NAPW Indy Chapter members will do the rest...
Garden City, NY (PRWEB) September 06, 2012
Members and guests of the NAPW Indianapolis Local Chapter gathered on August 2nd for a professional networking meeting at Second Helpings, at The Eugene and Marilyn Glick Center, 1121 Southeastern Avenue in Indianapolis, where members and guests donated food to the nonprofit community kitchen. The Chapter hosted guest speaker Dana Samardzich, a Life Coach, and announced how, with the help of NAPW National, it is sponsoring Dress for Success, Stepping Out in Style Show on September 14th.
Members and guests were welcome to the meeting at Second Helpings. The nonprofit organization accepts donated food and uses it to prepare nutritious meals for thousands of hungry children and adults in Greater Indianapolis, and distributes the meals free through local social service agencies. Second Helpings also trains unemployed and underemployed adults for food service careers.
"Eleven percent of households in Indiana are hungry or at risk of being hungry. Thanks to the work of Second Helpings, there will be 2,900 fewer people who are hungry tomorrow," said Indianapolis Chapter President Lynn A. Moore.
All attendees were encouraged to become food donors and were told how easy it is to get started. Food donations require little effort on the part of food donors and donations can be arranged on a one-time or an on-going basis. The biggest needs are: pasta, large cans of tomato products, herbs, spices, and condiments.
The evening's guest speaker, Life Coach Dana Samardzich, gave an informative and relevant presentation, Topics that Matter: Reclaim Your Time and Reconnect with Yourself. Dana works with professionals who want more time for themselves to do things that feed their souls and gave members and guests some of her expert advice and tips about achieving a healthy balance in life.
"In this session, you will learn: (1) Why your well-being is so important; (2) How to organize your time so it is spent on what is truly important; and (3) How to eliminate wasted time," Dana told the crowd.
Dana has been a professional salesperson with over ten years experience in industries such as steel, construction, and funeral service. Although successful, she wondered about the effect that such a stressful job would have on her long-term health. She realized that no one was going to take care of her well-being except herself and it was time for a change. Looking for a career that would be meaningful and fulfilling but flexible, she decided to leverage her skills in helping people and become a Life Coach. In 2009, she became a Certified Professional Coach through the International Coach Academy. Now, she spends her time helping others to take back their time and their lives while raising her family and indulging in her much-loved hobbies of knitting and singing in the VNA Hospice Choir and the Northwest Indiana Symphony Chorus.
Indianapolis Local Chapter President Lynn A. Moore announced at the meeting NAPW National has agreed to provide $3,000 of the $6,000 needed to become an Event Sponsor for the Dress for Success, Stepping Out in Style Show on September 14th.
"NAPW National will match $3,000 if NAPW Indy Chapter members will do the rest. If you plan to be part of the Event Sponsorship, please respond to Sally today," said Lynn. "As well, if your company wants to be a Corporate Sponsor, commitment forms are due from businesses that would like to sponsor a table at the event."
Those interested should contact Sally Esbaum, the Chapter's Dress for Success liaison, at sjesbaum(at)desktopresources(dot)com so she can coordinate the NAPW Event Sponsorship.
The following members were present at the August 2nd meeting: Sally Esbaum, Isabel Hundt, Michelle Link, Bridget McDaniel, and Mikki Post. Guests attending were Elizabeth Zook, Amanda Gauger, and Rosie Peterson.
The National Association of Professional Women (NAPW) is the largest and most recognized network of female professionals. NAPW provides a forum where women can interact, exchange ideas, educate, network, and empower. NAPW Local Chapters allow members to maximize their experience through meetings, networking opportunities, and professional events.
For additional information regarding the NAPW Indianaplis Local Chapter and/or NAPW, please visit http://www.napw.com.
Follow NAPW on Facebook and Twitter.
###