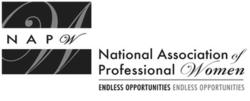 We were very excited to welcome guest speaker Charu Raheja, Ph.D.," said Jenni. "She spent the remainder of the meeting sharing basic finance information in a presentation titled Risk, Return, and Investment.
Garden City, NY (PRWEB) January 20, 2012
The NAPW Jacksonville Local Chapter met to determine which local charities to focus on and learn how to achieve financial stability from guest speaker Charu Raheja, Ph.D., of Triage Logic. Eight people were in attendance for the monthly networking event.
Jenni Edwards, Chapter President, welcomed those in attendance to the meeting. Two new members were in attendance, so the group briefly introduced themselves to one another. It was determined that social media, such as a chapter Facebook page, would be a welcomed addition to the group and would help meeting attendance grow. Jenni agreed to hold the regularly scheduled meetings each month to be accommodating to as many members as possible. The group is still seeking individuals to fill the positions of VP of Total You and VP of Hospitality and Outreach.
As next month's meeting is February 13th, just before Valentine's Day, it was decided that a pot luck dinner would be held to celebrate the holiday. Details will be sent to chapter members prior to the meeting. There is no planned speaker for this meeting; the group plans to focus every third or fourth meeting on charity, agenda planning and internal matters, instead of hosting a speaker. Also, a number of the Jacksonville Chapter members live at the beaches so the group discussed potentially meeting closer to the beaches once per quarter. Location suggestions were invited.
Shana Herrin, VP of Charitable Acts, researched charities with which the chapter could become involved. The five charities the group voted to focus on included Foster Closet, Project S.O.S., Sister to Sister Foundation, Women's Center of Jacksonville, and Betty Griffin House. Chapter members will decide at the next meeting which charity to focus on as their main charity for the year. Shana will do a monthly summary on charities and events, so members were advised to contact her with any ideas. The Donna 26.2 is coming up on February 12th and is still in need of volunteers.
"We were very excited to welcome guest speaker Charu Raheja, Ph.D.," said Jenni. "She spent the remainder of the meeting sharing basic finance information in a presentation titled Risk, Return, and Investment." Dr. Raheja emphasized the fact that time is money, sharing the equation FV=C(1+r)t (Future Value is equal to the Cost multiplied by 1 plus the borrowing Rate to the power of Time) to demonstrate why $1 today is worth more than $1 tomorrow. If clients want to pay bills in the future, it is advisable to charge more and inform them of the discount they'd be receiving by paying today.
For example, if a client owes a construction company $500,000 (C) today and wants to pay in one year (t), the construction company needs to borrow that money from the bank at 10% (r) to pay their contractors. Per the above state equation FV=500,000(1+.10)1 the client would owe $550,000 one year from now.
Dr, Raheja explained the difference between stocks and bonds, and provided reasons why higher risk can lead to higher reward. While explaining Stocks Risk, Market Risk and Unique Risk, she also advised that one should always diversify her portfolio as much as possible. She also recommends utilizing The Vanguard Group to open a bank account.
Jenni Edwards closed the meeting with the announcement of two new officers: Dr. Charu Raheja – VP of Finance for Charitable Accounts and Jennifer Mann – Photographer/Media Relations. Upcoming Meetings were also announced: Wednesday January 25th at 6:30pm at Corner Bistro & Wine Bar (9823 Tapestry Park Circle, Jacksonville, FL 32246), a social event to network and promote local businesses; and Monday February 13th at 6:30pm at Stellar (Brick Building on Property -2900 Hartley Road, Jacksonville, FL 32257).
The National Association of Professional Women (NAPW) is the largest and most recognized network of female professionals. NAPW provides a forum where women can interact, exchange ideas, educate, network, and empower. NAPW Local Chapters allow members to maximize their experience through meetings, networking opportunities, and professional events.
For additional information regarding the NAPW Jacksonville Local Chapter and/or [NAPW please visit http://www.napw.com.
Follow NAPW on Facebook and Twitter.
###