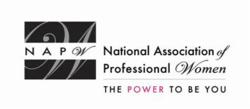 The main aspect of this workshop will include an introduction to the Only Three Ways to Increase Revenue, Ten Things You Must Master, and Setting and Achieving Goals
Garden City, NY (PRWEB) April 25, 2012
The NAPW Jacksonville Local Chapter met on April 9th for a professional networking meeting and business success workshop with Steve Black, Business Success Coach. There were eighteen members in attendance.
Jenni Edwards, Jacksonville Local Chapter President, welcomed all who were in attendance. She also thanked Chris Trad of Trad's Garden Center for providing the group with lovely centerpiece floral arrangements. In order to allow plenty of time for the night's guest speaker, the group quickly discussed upcoming events.
"The NAPW National Meeting is approaching on May 18th and five Jacksonville Chapter members are currently planning to attend, so the next meeting will be the "Quarterly Networking Social" on Wednesday, April 18th at 6:30pm," said Jenni.
The event will be held at the Corner Bistro at Tapestry Park. After brief introductions of the women in attendance, Shana Herrin, Vice President of Charitable Acts took the floor.
Shana created T-shirt designs for the group to wear at events using descriptive word that were submitted to her by the group's members. Once a color scheme is decided upon by the group, she will finalize the shirt's details. Shana attended the fundraiser 'An Evening of Illusion,' an event benefiting the charity Project S.O.S., which is the main focus of the Jacksonville Chapter's charitable efforts. She asked the group to send their fundraising ideas for a Project S.O.S. event for this fall. She also discussed an event sponsored by Foster Closet to be held on May 5th. The newest charity that the Chapter is supporting is Girls Inc. of Jacksonville. The charity helps teach girls and young women, ages 5-18 the skills they need to be strong, successful women.
She relayed to the group that a representative for the charity will speak at the next Chapter meeting in June. They are holding a Girls' Rights Reception on May 3rd from 5:30-7:30pm. Tickets are $25.00.
Shana then introduced guest speaker and business success coach Steve Black. He has been working with business experts such as Tom Hopkins and Brian Tracy for over seventeen years and has spoken to more than 500,000 business people nationwide. Steve talked about his background in sales training, social media, and internet marketing strategies. He led the group in a concise workshop to help promote success in business.
"The main aspect of this workshop will include an introduction to the Only Three Ways to Increase Revenue, Ten Things You Must Master, and Setting and Achieving Goals," said Steve.
He told the group that the number one goal for any person, regardless of the business they are in , is to be happy. He mentioned that he will be speaking at the Success Summit 2012 at the Renaissance-World Golf Village in St. Augustine on May 15th. The event is from 8:00am-5:15pm and will promote Success in Business & Sales in 2012 & Beyond.
Jenni Edwards thanked everyone for coming and thanked Steve Black for his presentation and workshop. Each person in attendance received a gift bag with sample skin products courtesy of Marcela Marabelli of Tropicaderm.
The National Association of Professional Women (NAPW) is the largest and most recognized network of female professionals. NAPW provides a forum where women can interact, exchange ideas, educate, network, and empower. NAPW Local Chapters allow members to maximize their experience through meetings, networking opportunities, and professional events.
For additional information regarding the NAPW Jacksonville Local Chapter and/or [NAPW please visit http://www.napw.com.
Follow NAPW on Facebook and Twitter.
###