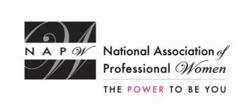 The theme of this meeting is charitable acts, something all of us are deeply committed to and we are so proud to be able to give back to our community
Garden City, NY (PRWEB) July 17, 2012
Members and guests of NAPW Jacksonville, Florida Local Chapter gathered on June 11 for a professional networking meeting where nearly 30 members and guests had the opportunity to learn more about Girls Inc., a nonprofit organization that works with young girls through programs and enrichment. Guest speaker Meg Balke's inspired talk was the perfect fit for a meeting that was devoted to the Local Chapter's strong commitment to charitable acts.
The Jacksonville Local Chapter, which is nearly 100 members strong and still growing, is a powerhouse when it comes to charitable endeavors. Each month, the group reaches out to a different group or organization to offer its support through fundraising and other events. As evidenced by the great turnout at this most recent meeting, the Jacksonville Local Chapter is as committed as ever to its vision of giving back to the community and its efforts to be an excellent source of networking opportunities for members. The Chapter's members are actively networking through social media and the group has a presence on Facebook, Twitter, and LinkedIn.
Before the June meeting got underway, members and guests had the opportunity to network with each other. NAPW Jacksonville Local Chapter President Jenni Edwards then warmly welcomed everyone and was thrilled by the many members and guests who were in attendance. She reminded all who were there about the Chapters 'rebirth' in September 2011 and how it has grown to become such a sucess.
"We have another record crowd for NAPW Jacksonville Chapter and I am so excited about how fast this group is growing," she told the crowd. "The theme of this meeting is charitable acts, something all of us are deeply committed to and we are so proud to be able to give back to our community."
Jenni announced the upcoming K-9 for Warriors Event as the group's monthly charitable opportunity to be held Thursday, June 28 at 7pm at Urban Flats in Ponte Vedra Beach. She also spoke about the Chapter Rewards Program that is available to all Local Chapters and rewards members and Chapters with prizes based on involvement in charitable acts, social media networking, and growth and retention. Jenni happily awarded prizes to a number of members who had 'Liked' and posted their profiles to the three social networks.
Shana Herrin, Jacksonville Local Chapter VP of Charitable Acts asked the group to vote on future fundraising activities in which they would like to see the Chapter get involved. A wine tasting/silent auction and fashion show seemed to be the two favorite choices as was making donations to the local Dress for Success organization. Committees will be formed to follow up on these projects.
Next, Shana introduced Meg Balke of Girls Inc. Meg shared the history of Girls Inc., and how the organization was originally part of the Boys and Girls Club. It works with girls as young a five, emphasizing prevention programs and working with such groups as Title One Youth. The organization makes presentations in local schools and churches to focus on sexual boundaries, pregnancy prevention, and personal empowerment. They have an annual fundraiser in February. Members and guests were inspired by Meg's talk and the important work Girls Inc. does.
Jenni kept the momentum going by telling the crowd all about her recent trip to New York City to attend the 2012 NAPW National Conference. The event, she said, was outstanding and she regaled the audience with stories about Star Jones, NAPW national Spokeswoman, Keynote Speaker Sara Blakely, founder of Spanx who used humor and humility to share her personal success story, and Hugh Hefner's daughter Christie who did a presentation on dressing for success and how every business woman needs a best friend. She praised the wide diversity of women who were on the panel. Shana, who also attended the Conference, spoke about how inspired she was by the event. The two women encouraged everyone to start planning now to attend next year's NAPW National Conference.
The NAPW Jacksonville Chapter will hold its next meeting Monday, July 9 at 6:30pm, and its quarterly, social gathering will be held July 18, 2012 (location to be determined).
The National Association of Professional Women (NAPW) is the largest and most recognized network of female professionals. NAPW provides a forum where women can interact, exchange ideas, educate, network, and empower. NAPW Local Chapters allow members to maximize their experience through meetings, networking opportunities, and professional events.
For additional information regarding the NAPW Jacksonville Local Chapter and/or NAPW please visit http://www.napw.com.
Follow NAPW on Facebook and Twitter.
###