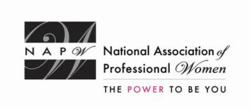 Supporting the run enables companies to be affiliated with the most celebrated health event in Southwest Michigan
Garden City, NY (PRWEB) July 05, 2012
The NAPW Kalamazoo Local Chapter gathered on Saturday June 16th for their very first professional networking meeting at the Wine Loft in Kalamazoo, Michigan.
Tammy Gleeson, Kalamazoo Local Chapter President, kicked off their first meeting by welcoming all guests and members in attendance. Tammy was excited about the installment of the brand new Chapter. She discussed the agenda and asked that everyone introduce themselves and to network amongst each other.
New members presenting at this initial meeting included Dawn Roberts who works for Pfizer, Inc. in the Records Information Management Department here locally in Kalamazoo. Other participants included Hana of Salon Hana in Battle Creek, Michigan. She was only able to stay briefly to evaluate NAPW for possible future membership.
For their first meeting the ladies focused on the goals, objectives, and format of the chapter. They also discussed potential charities that the Chapter would like to participate in and support. Dawn Roberts suggested that they should consider becoming more involved in the Salvation Army. Tammy is going to look into the details of the Salvation Army and what they could provide as a Chapter.
They discussed sponsorship and participation in the "Borgess Run for the Health of It", which will take place in 2013. Supporting the run enables companies to be affiliated with the most celebrated health event in Southwest Michigan. The event also includes a 5K run/walk, half marathon, and a kid's fun run. Businesses and organizations can reach thousands of runners, fans, and volunteers. The Kalamazoo Marathon supports a different charity every year. In 2012, the beneficiary was Children's Charities.
The ladies talked about opportunities to support health related fundraisers; from fun runs for adults and children to 5K runs and half marathons. Tammy and her office, the Thoracic Surgery Institute, supported the American Heart Association's Heart Chase earlier this year in Battle Creek as both a sponsor and participant. Many other race options for support and participation are out there, and members are encouraged to give advice in regards to upcoming events that they would like our Chapter to consider.
Members were encouraged to bring in information regarding fundraisers that they would like the Chapter to support.
The ladies would like future guest speakers to have presentations on women's health, balancing life and business, business expansion, marketing, leadership skills and empowerment, and promotion of business and personal success. Tammy asked members to contact her if they had any speaker in mind for upcoming meetings. If any member herself is willing to be a speaker, that is also encouraged and welcomed.
The next Chapter meeting was discussed and is to be held on July 26th at 6:30pm at Food Dance in Kalamazoo. Information is posted on the Kalamazoo Local Chapter Page of NAPW. Tammy will give further details to all members that were unable to make this initial meeting.
At the July meeting, a calendar of meetings will be given to members for future reference. Future location options will also be discussed at that time.
The National Association of Professional Women (NAPW) is the largest and most recognized network of female professionals. NAPW provides a forum where women can interact, exchange ideas, educate, network, and empower. NAPW Local Chapters allow members to maximize their experience through meetings, networking opportunities, and professional events.
For additional information regarding the NAPW Kalamazoo Local Chapter and/or NAPW please visit http://www.napw.com.
Follow NAPW on Facebook and Twitter.
###