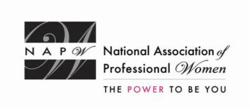 The group enthusiastically decided that each monthly meeting in 2013 will be centered on a fun, creative theme and/or color.
Garden City, NY (PRWEB) December 25, 2012
Members and guests of the NAPW Kenosha Racine, WI Local Chapter gathered on December 13th for a professional networking meeting at the Bull and Bear Eatery and Tavern. The group of professional women discussed various themes for future Chapter meetings including a New Year's celebration in January; 'Bringing Sexy Back,' with a Night of Lingerie in February; and much more including fundraises to benefit local organizations.
NAPW Kenosha Racine Local Chapter President Audrey Phillips welcomed members and guests to the December event, which was the Chapter's first official meeting. She spoke about the Chapter's future plans and began a discussion about the focus of Chapter meetings in the coming year.
"The group enthusiastically decided that each monthly meeting in 2013 will be centered on a fun, creative theme and/or color," said the Chapter President. "Some of the themes will be incorporated into fundraisers that will make a positive impact on our community."
Meeting themes are as follows:
January: Happy New Year!" The start of the New Year will be celebrated at this meeting. Each NAPW Kenosha Racine Chapter member and guest will be given a hat and party favor.
February: Valentine's Day. Chapter members and guest will be 'Bringing Sexy Back' as they prepare for Valentine's Day with A Night of Lingerie when the featured guest will be a representative from Ladonna Marie's Quality Intimate Apparel. Each attendee will receive a rose and be entered into a drawing for a Ladonna Marie item valued at $25.
March: St. Patty Shamrock Mixer. The Chapter will celebrate St. Patrick's Day by wearing green. Each attendee will be given a shamrock party favor.
April: Living Health. The meeting's focus will be on healthy lifestyles. The featured guest will be a member of Medical Wellness and Weightloss, Inc. of Racine, WI.
May: Labor Day Theme. Colors worn at this meeting will be all white
June: Welcome Summer. Tropical Island Theme.
July: Fourth of July Theme.
August: End of Summer/Back to School. This Chapter meeting will focus on obtaining school supplies for needy children in the community.
September: Labor Day.
October: A Stepper's Masquerade. The Kenosha Racine Chapter will host a Masquerade/Stepper's Party with an evening of fun, food, and dancing. Proceeds from this event will go toward purchasing Thanksgiving dinner for families in need in the community.
November: Give Thanks. This meeting will focus on the Thanksgiving holiday.
December: Toy Drive. In the spirit of the holidays, the Chapter will host a toy drive for needy children in the community.
Chapter President Audrey next spoke about NAPW, and then expressed the need for Chapter Board Members. DeVon Scott volunteered to be Chapter Secretary and Vice President of Social Media and Carolyn Black volunteered to be Chapter Vice President of Event Planning. A vote was then taken and both women were assigned those roles
"NAPW Kenosha Racine Chapter members and guests then had a discussion about their goals and expectations as NAPW members," said Audrey. "It was both heartwarming and encouraging to listen to everyone's dreams and witness the support of the other members and guests!"
DeVon Scott dreams of completing paralegal studies and hopes to one day become an attorney and open her own law firm. Carolyn Black spoke about her dream of expanding her personal cleaning services to businesses throughout Kenosha and Racine, and the surrounding areas.
Audrey Phillips told the others that she dreams of implementing her copy-written software in every school district operating in the United States, Puerto Rico, and Virgin Islands.
Each member was asked to invite someone to the next Meet and Greet meeting (Happy New Year Mixer), which will also be held at the Bull and Bear Eatery and Tavern on January 17th at 6:30pm.
The Kenosha Racine Local Chapter sends many thanks to Manager Nick and the staff of the Bull and Bear Eatery and Tavern for their hospitality and for taking a group photo of attendees.
The National Association of Professional Women (NAPW) is the largest and most recognized network of female professionals. NAPW provides a forum where women can interact, exchange ideas, educate, network, and empower. NAPW Local Chapters allow members to maximize their experience through meetings, networking opportunities, and professional events.
For additional information regarding the NAPW Kenosha Racine Local Chapter and/or NAPW, please visit http://www.napw.com.
Follow NAPW on Facebook and Twitter.
###