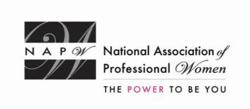 You should never adjust your body to the work place, it's the other way around...
Garden City, NY (PRWEB) February 01, 2012
National Association of Professional Women Los Angeles Chapter hosted a morning networking meeting event on January 18th, 2012. Chapter president Ruth Garcia-Corrales, Advertising and Marketing Manager for La Curacao and former Consul General of Costa Rica, welcomed all members of NAPW Los Angeles Local Chapter. The chapter started the year with many new members, business women and professionals, in addition to a great group of regular members.
The topic of discussion for January's meeting was women's health. Ruth introduced guest speakers Brigitte Rozenberg, owner of The Chiropractic Wellness Center & Spa, with two locations in Culver City and Van Nuys; and Annie McRae, owner of Nutrition 4 Good a consulting nutrition service, and Lorri Herman Independent Consultant and Executive Regional Vice President of Arbonne International.
Lorri Herman started her presentation with an anecdote. She was once asked which she thought the largest organ in the body. She answered immediately, 'the intestines', not knowing at that point that the skin was actually the largest organ in the body. She pointed out that most people, including once herself, disregard the importance of their skin in maintaining overall health. Her presentation continued onto the connection between inner health and outer beauty. She also discussed the aging process. The aging process begins when the skin cells start to age and they become sluggish and less efficient in the production of collagen. Collagen and elastin slow down the aging process of the skin. Over time, the thickness of the skin decreases by 6% every ten years. The sun is believed to be the cause of 90-95% of wrinkles, lines, and skin discolorations. It causes the skin to lose its ability to hold moisture and it becomes drier. Lorri gave a $25 gift certificate to all members in attendance which included a free facial. She also provided a list of the twelve anti-aging ingredients that all women should know about and purchase.
Annie McRae spoke about keeping the liver healthy. She listed the foods that one should include in her diet, for example beets and dark green leafy vegetables. She explained which foods to exclude including all processed and refined foods. She went over a list of causes of chronic health challenges which included structural problems, hidden good allergies, acute and chronic inflammation, toxic overload, harmful bacteria, heavy metal toxicity, and many others. She explained detoxification, why to do it and how, and its benefits.
Brigitte Rozenberg got right to the point and told everyone, "You should never adjust your body to the work place, it's the other way around. You should never work turning your neck or your body into an abnormal position."
Brigitte provided many kinds of tips on an ergonomic workstation, prevention through ergonomics, and office exercises focusing on neck relaxation, the upper back and chest, fingers, neck bending, shoulder stretching, and the wrists. She insisted that many chronic problems could be prevented if people took better care of their working areas.
Every member received a copy of a 2012 calendar with the dates of all meetings from Ruth Garcia-Corrales, so members could plan ahead. In addition to suggested topics for each session, the calendar was greatly appreciated by everyone and the date and topics for February's meeting were approved.
The next morning meeting for the chapter is scheduled for Wednesday, February 15th, 8:00-10:00AM at Factors Deli, 9420 West Pico Boulevard, Los Angeles, CA 90035. Valet parking is available for $4.
"The topic for the next session will be 'Emotional Intelligence in the Work Place'," said Ruth. "This will be an opportunity to talk about, personal experiences and prepare for situations to become a winner. We look forward to seeing you all there."
The following members were in attendance for the January meeting: Ruth Garcia – Advertising & Marketing Manager for La Curacao, and former Costa Rica Consul General. Ruth is the L.A. Chapter president; Daisy Marks, Executive Secretary for the Westside Regional Center; Lorri Herman, Arbonne International; Susan Hardwick, Belles Voyage, go beautiful; Annie McRae, Nutritionist; Karen Goodman, Entertainment Marketing; Mercedes Holley, Univision Account Executive- Media; Brigitte Rozenberg, Chiropractor; Concetta Halstead Lord Creative Director; Gay K. Morris, Apronista and owner of Kersey Girl Creations-Aprons and more; Ruth Klein, Brand Marketing Specialist; Rita Aleksanya, Cosmetology and Esthetician; Yvonne Chang, Shop.com UnFranchise Owner; Joanna Poppink, Eating Disorder Recovery Specialist; Norma Kastel, Producer; Danixa Diaz, Executive Producer/partner; Gwen Lang Jones, Consultant Unique Gifts Ande Nalon Enterprises.
The National Association of Professional Women (NAPW) is the largest and most recognized network of female professionals. NAPW provides a forum where women can interact, exchange ideas, educate, network, and empower. NAPW Local Chapters allow members to maximize their experience through meetings, networking opportunities, and professional events.
For additional information regarding the NAPW Los Angeles Local Chapter and/or NAPW, please visit http://www.napw.com.