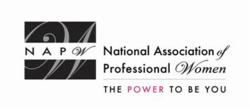 Business owners need to look at how important it is to make your website organic for the best search engine optimization results...
Garden City, NY (PRWEB) April 19, 2012
The NAPW Los Angeles Local Chapter gathered on March 14th at 6:00pm for a professional networking meeting with guest presenters Ruth Klien and Concetta Halstead on web myths, websites, and web design.
Ruth Garcia-Corrales, Chapter President welcomed all new members to the NAPW Los Angeles Local Chapter, as regular members in attendance. "There were many women who attended this meeting all who were professional business women, but from different fields and who held different positions and titles, which was great for networking," said Ruth.
The Chapter welcomed guest speaker Ruth Klein, Owner, Branding and Productivity Coach of The Marketing Time Source, and Author of six books. Next, the Chapter introduced Concetta Halstead, Executive Creative Director and Owner of Lord Creative, a full-service design, branding, and website development company.
Ruth explained five web myths that many business owners tend to fall for. Businesses think that they need to get a website up and running right away. Others think a website will result in an increase in clients, or that they have to pay a lot of money to get good search engine optimization placed on a website. Perfectionists tend to think they must have all content perfect before they can have a website go live.
"Business owners need to look at how important it is to make your website organic for the best search engine optimization results," said Ruth. "There are different types of websites that you can choose from such as a brochure style to a selling style."
Her tips also included the importance of having an effective database of software that can be integrated into your website. Ruth also shared different search engine optimizers such as Facebook, Twitter and LinkedIn, as well as the importance of articles, blogs and back links to acquire search engine optimization.
Concetta presented next. She expressed that planning ahead is most critical in having a successful website. She shared questions one should ask before creating a site.
"Make yourself a list of questions starting with why people are coming to your current website, what do they achieve vs. what do you want them to achieve," said Concetta. "You should also ask questions along the lines of how can you make their engagement as effortless as possible, what works for your competitors, what hosting, email and Social Media needs do you have, how much content will be on your site, how many sections or pages."
Concetta told the group that websites cannot be built overnight and to not stress over the length of time it takes for it to be created.
"There are several fundamental steps that must be taken into consideration prior to the development of a new website, which includes establishing your goals, defining your brand image, outline all the sections of your site, and identify key words for your target audience," said Concetta.
She told the group when armed with this information you are ready to do an initial design concept phase. She also discussed search engines and refuted the myth 'if you build it, they will come'. You should have proper SEO in place, submit your site to major search engines, register your blog in the blogosphere, and set up analytics. You must also promote your site on social media platforms, have forms on your site that capture data, and send out an e-newsletter to your customer base. After she completed her presentation she asked everyone if they had any questions.
Ruth, Chapter President, thanked both guest speakers for presenting and told the group to schedule the next morning meeting into their calendar. The next meeting is scheduled for Wednesday, April 18th at 8:00am at Factors Deli. The topic for April's meeting is "Putting your Trust in a Trust Account".
Members in attendance of the March meeting:
Ruth Garcia , Los Angeles Local Chapter President, Advertising & Marketing Manager for La Curacao, and former Costa Rica Council General; Lorri Herman of Arbonne International; Concetta Halstead, Lord Creative of Power by Design; Ruth Klein, Brand Marketing Specialist; Daphne Vandegri, Owner of Daphne Chocolates; Dr. Mary Fallie, Forensic Psychologist ; Lisa-Catherine Cohen, Author, Song writer and Editor; Rashunda Rene, Founder and President of Committed to Uplifting Single Parents; Robin Guy, Business Public Administrator; Rita Aleksanya, Cosmetology and Esthetician; Margot Landen, Photographer; June Davidson, President of Coaching Firm International; Kimberley B. McDowall, Owner and Desiner of D.a.K.s. Jewelry; Nadia Oneluv, Advocate & Counselor for domestic violence victims; Joan S. Sun, Psy.D. Doctor of Clinical Psychology, Psychotherapist for individuals, couples and families ; Josephine McReynolds, Real Estate Consultant; Evelyn Gray, Productivity Expert of Peak Performance Coach; Soulla Koronidou, Financial Manager and Controller; Norma Kastel, Producer of Gold Star Films International; Tatiyana Baghdadlian, Owner of Organic Airbrush Tanning Service; Precious S. Hilton of Hilton Entertainment Group; and Olivia Lam, of Olam Design.
The National Association of Professional Women (NAPW) is the largest and most recognized network of female professionals. NAPW provides a forum where women can interact, exchange ideas, educate, network, and empower. NAPW Local Chapters allow members to maximize their experience through meetings, networking opportunities, and professional events.
For additional information regarding the NAPW Los Angeles Local Chapter and/or [NAPW please visit http://www.napw.com.
Follow NAPW on Facebook and Twitter.
###