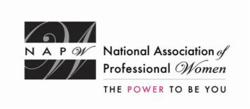 These events should be seen as an extension of your regular campaigns...it's one more way to reach your potential customers, and an opportunity to talk to your current customers...
Garden City, NY (PRWEB) October 09, 2012
Members and guests of the NAPW Los Angeles, CA Local Chapter gathered on September 12th for a professional networking meeting at Factor's Deli. Attendees learned marketing and branding tips from two experts during the evening. Member Ruth Klein tackled the subject of communicating with Generations X, Y, & Z as she read from Willaim J. Schoroer notes and Chapter President Ruth Garcia-Corrales spoke about the 11 Benefits of Grassroots Branding, a topic she presented at the Galaxy Summit.
The networking meeting commenced with the Chapter President welcoming the 15 members and guests to the meeting. She remarked that Chapter meetings have been very well attended.
"We are outgrowing our location," said Ruth. "We may need to consider a new venue for our monthly networking meeting."
Lorri Herman suggested they start looking for a new place to hold the meetings and it was decided that all would bring venue suggestions to the next event.
The President then introduced Ruth Klein who, reading from the notes of Wiliam J. Schoroer, helped members and guest understand how to better communicate with and market to Generations X, Y, and Z. The differences and subtleties of each generation were outlined as follows:
Generation X are those born between 1966 and 1976; their ages in 2012 are from 36 to 46 years old, and their population is around 41 million. This generation is one of the highest educated with 29% obtaining Bachelor degrees.
Generation Y, Echo Boomers, or Millenniums, are those born between 1977 and 1994; their ages in 2012 are from 18 to 35 years old, and their population is around 71 million. These kids are sophisticated; technology-wise, and immune to most traditional marketing and sales pitches. They are less brand loyal.
Generation Z are those born between 1995 and 2012, with ages between 0 and 17; their population is around 23 million and growing rapidly. They are growing up highly exposed to media, in a computer environment, and will be internet savvy.
"Everyone gave examples of their challenges connecting with the different generations and a great discussion was made on the future of all these segments as consumers," said Ruth Garcia-Corrales.
In addition to this topic, the Chapter President introduced the topic she discussed at the Galaxy Summit: 11 Benefits of Grassroots Branding. Ruth went over the importance of using different advertising platforms and including them on community events.
"These events should be seen as an extension of your regular campaigns," said Ruth. "It's one more way to reach your potential customers, and an opportunity to talk to your current customers. Better yet, it's a great way to reconnect with former customers."
Ruth gave everyone a handout and said if they were interested in reading more to check out the website AskJerryHow.com. She also updated members and guests on her professional events.
Ruth is the Advertising & Marketing Manager of La Curacao. Her company is opening its 11th store. Ruth was instrumental in making that happen and she has been an integral part of the company's on-going success. She went on to make an announcement about her latest venture.
"I have been with Curacao for 14 years and I am now writing a book about the founders of my company," said Ruth. "The book will be out soon."
Before a session of general networking ensued, as at every networking meeting, members and guests had the opportunity for routine roundtable individual introductions:
Daphne Germaine - Survival Kits - Daphne is in search of an MBA intern in internet marketing for which he or she will receive college credit. Her current passion, and really important to Californians, is her Earthquake Survival Kits. gdsurvivalkits.com.
Lorri Herman -Business Coach with a focus on health and wellness. She is currently organizing a fundraiser and is looking for 'big ticket items.' She also made the group aware of Prop 30 & 38.
Bridgitte Rosenberg - Chiropractor - two offices: Culver City & Van Nuys.
Carol Johnson - Singer/Songwriter - Currently promoting her Obama song. musicofcaroljohnson.com
Jenna Rodriguez - EMI/Universal - Involved in the Spanish music industry and is from Colombia. criteriaentertainment.com
Ola Eai 'O' - Civil Engineer by trade and is currently a Notary Public. She is enrolled in the Paralegal program at UCLA. She is looking for help with marketing.
Sarah A. Nargiso- Licensed Acupuncturist - Has an outreach program in Kenya and Sri Lanka. She is organizing a holiday launch party and has worked with Lorri Herman for business coaching.
Diane DiMascio, Esq. - Diane is an Attorney, focused on helping women deal with their legal and financial issues, corporate and business law, and intellectual property. dimasciobernatdo.com/
Ruth Klein - Author of six books. Promotes the 'trifecta affect:' branding, marketing, and publicity. Is moving in the direction of becoming bi-coastal and heads up a writing group. http://www.ruthklein.com/
Daphne Vandergraffe - Daphne Chocolatier - Designer and Maker of dark chocolate. "The little bites make a big difference." She creates gift items with a minimum order of five each with very fresh ingredients. daphnechoclatier.com
Cat Lambertini - Merrill Lynch, Beverly Hills. Cat is a Premier Retirement Benefits Advisor. She works in wealth management through managed money and corporate 401k & 403b. cat(dot)lambertini(at)ml(dot)com
Alisa Edelson, Esq. Clark & Trevitchick - litigation and trademarks. Alisa brought flyers for an educational meeting. aedelson(at)clarktrev(dot)com
Anna Sweat - Speaker. She worked for state board for mental health clients. Disability Chair. Anna is almost 70, has nine grandkids, three great-grandkids, and two boyfriends. gmenanna(at)att(dot)net
Julie Ziede - Chiropractor and Physical Therapist. "Keep body lubricated and moving." Julie works with all ages, infants to grandparents. She has a weight-loss program and wants to stop type 2 diabetes - not a diet but a carb/protein education program.
Katie Kyme - Tri-Athlete and client of Dr. Zieve. Working to promote Dr. Zieve. Represents Australia.
The suggestion was made to ask NAPW National Headquarters to hold a California All-Chapters meeting and Ruth Garcia-Corrales said she will look into the suggestion.
The next Los Angeles, CA Chapter meeting will be a breakfast meetings at Factor's Deli on October 10th.
The National Association of Professional Women (NAPW) is the largest and most recognized network of female professionals. NAPW provides a forum where women can interact, exchange ideas, educate, network, and empower. NAPW Local Chapters allow members to maximize their experience through meetings, networking opportunities, and professional events.
For additional information regarding the NAPW Lost Angeles, CA Local Chapter and/or NAPW, please visit http://www.napw.com.
Follow NAPW on Facebook and Twitter.
###