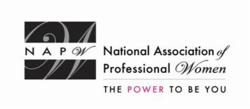 It was great to start the New Year with so many new members to bring fresh ideas and a stronger focus for the women leaders in our community.
Garden City, NY (PRWEB) January 24, 2012
The NAPW Louisville chapter began their new year with exciting news – over ten new members joined the chapter since last meeting. "It was great to start the New Year with so many new members to bring fresh ideas and a stronger focus for the women leaders in our community," said Amy Caryn Warneka, Chapter President.
So many new members came to this month's meeting; the group spent a lot of time getting to know each other, their strengths, their companies, their desires and so much more. In attendance this month were: Amy Caryn Warneka (President, IPaSS Consulting), Mari Mujica (Diversity Consultants), Becky Pugh (BP's), Nikki Weis and Andrea Loveless (Advanced Steamway), and Shelia Barbour (Education Consulting). While dining on great food from Wick's Pizza on Bluegrass Parkway, the chapter discussed the establishment of a regularly scheduled day and time to entice the most members to attend their meetings and connect. "Last year's survey was a big help, but more members need to submit their input or scheduling conflicts in order to discover the most optimal time frame to work within," Amy told the group.
There was a small discussion on hosting guest speakers on a regular basis, inviting guests to attend meetings, the future of the chapter newsletter, what the group hopes to achieve and receive from taking time out of their busy schedules to attend, and the membership benefits of being a part of NAPW. Members also discussed plans for the future of the chapter, such as an organization committee for membership drives, electing officers to handle some of the many duties and needs of the chapter as they grow, and how they can make an impact on the local community with fund drives, collections, donations, and charity events.
Each member was asked to talk about a special thing or event that happened in their lives recently. There were excellent answers given and even a few surprises. However, the best answer was: "This group, this chapter…being here," by Shelia Barbour, one of the newest members. "This was truly a blessing." It is the chapter's belief, and hope, that this sentiment is shared by all the Louisville chapter members, and it is the hope that each member can find a blessing from being a part of such a great organization.
Amy Caryn proposed holding next month's meeting in the same place but hosting the meeting on a Monday rather than a Friday. "I believe it is a better day for most members, a great way to motivate our members and start the week out right," she said. With smiles around the table, members seemed to agree.
Amy Caryn continued, "We want to ensure that our members are comfortable coming, don't have to take too much time away from their busy lives, and feel like they are getting a benefit from just showing up. Even just meeting, greeting, chatting, as well as showing the love and support we have for each other, is a benefit for many of us who usually don't take enough time for ourselves daily. Knowing someone cares can do wonders on a stressed woman's attitude."
The meeting ended with talk of next month's meeting and how to make it more productive. Shelia volunteered to host a "story-time" with a reading of one of her works, which each member took delight at hearing. Nikki and Andrea were asked if they could bring in more magnets to pass out next week, and Becky talked about sending Amy more information about what she is looking for in her marketing plans so they can assist one another in their business. The meeting ended on a high note, with everyone looking forward to next month.
The National Association of Professional Women (NAPW) is the largest and most recognized network of female professionals. NAPW provides a forum where women can interact, exchange ideas, educate, network, and empower. NAPW Local Chapters allow members to maximize their experience through meetings, networking opportunities, and professional events.
For additional information regarding the NAPW Louisville Local Chapter and/or NAPW, please visit http://www.napw.com.
Follow NAPW on Facebook and Twitter.
# # #